Your Indoor cycling space can be setup in many different ways, and in this post/video, I am going to talk about different products that will give you one heck of an indoor cycling setup on a budget. All the products I am going to mention in this video are products that I am personally using or used at some point, and so I've had a chance to try them all out myself.
I am going to start off by sharing my top budget picks for bike trainers, and then I'll move on to devices to run Zwift, and lastly, I'll share other accessories that I believe are essential for improving your indoor cycling space.
BIKE TRAINERS
GOOD BUDGET SMART TRAINERS
– Zwift Hub One – $599 (includes a free one year membership to Zwift)
– Saris H3 Dirct Drive Trainer – $630.
– ELITE TUO Wheel-On Smart Trainer – $320.
– Wahoo KICKR SNAP Wheel-On Smart Trainer – $400 $300
Let's start off with budget bike trainers. A good trainer is the most essential part of your pain cave setup. If you don't have a good trainer, it's just going to be a matter of time until you hate indoor cycling. But that doesn't mean you need to spend $,1000 – $1,400 on a trainer. There are many smart trainers out there with good specs that give you a good road feel as well.
The best budget wheel-on bike trainer I recommend right now is the ELITE TUO (my review here). This trainer has an amazing road feel, great for sim riding or erg mode riding. The power accuracy is pretty decent and actually exceeded the +/-5% accuracy claims in my testing. The other nice thing about this trainer is its price. It has been selling for around $320. That's over 40% off its retail price. At this price, this trainer is a steal, and I think it looks really good too.
The other wheel-on trainer that I highly recommend is The Wahoo KICKR SNAP (my review here). It usually retails for $400 but you might be able to find it right now for $300.
The KICKR SNAP is very well-built and will last you many hours of training. It has one of the best road feels in its class. It is Bluetooth and ANT+ compatible, so it works with Zwift and other cycling apps that support Bluetooth or ANT+ protocols.
But if you have just a little extra money, I would definitely get the Saris H3 (my review here).
The Saris H3 is a direct drive trainer, meaning you will need to remove the rear wheel and attach the bike directly onto the trainer. Direct Drive trainers tend to be much better at simulating terrain, and they tend to be much more powerful and more accurate. The Saris H3 is an amazing high-end trainer that is well built, quiet, gives you good power measurement, and has an extremely heavy 20-pound flywheel that will give you a very good road feel. Also, I found it to measure power within 1% to 2% which is really impressive. And it works so well in ERG mode. One of the best trainers in ERG mode per my testing.
The H3 has been on clearance for a while now, and you can get one for about $630. The price seems to fluctuate a lot on this trainer, and I've seen it go for as low as $480, which is more than half off the suggested retail price. So if you plan on taking your indoor training seriously and looking for a high-end trainer on a budget, I would definitely get this one.
And, of course, the Zwift Hub is another solid direct drive trainer that you can get for $499. Not as good as the Saris H3 from specs perspective but a solid direct drive trainer and definitely worth checking out.
CYCLING MAT
WHAT TO BUY
– PowrLabs Cycling Mat – $33.
Moving on from the trainer, You are going to need a mat to protect your floor and prevent your trainer from slipping. Also, a good mat can dampen the noise a little. There are plenty of them out there on Amazon. This one here by Powr Labs costs only $33. It looks like a solid mat for a good price with plenty of satisfied reviews.
DEVICES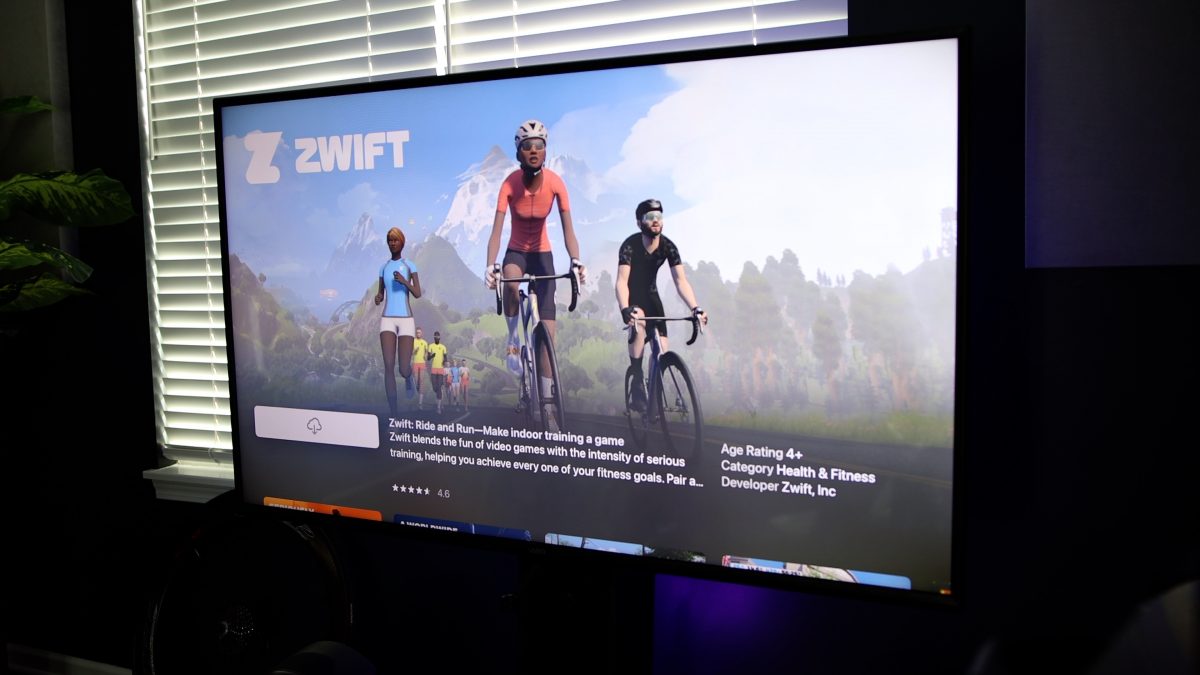 WHAT TO BUY
– APPLE TV 4K 2022 – $125
Alright, now you have a bike trainer, and a mat. Now all you need is a device to run Zwift or possibly another app. The good news is you can run Zwift on a lot of devices, and most likely, you already have a device that you can use to run Zwift and it's probably in your pocket. Zwift is compatible with Mac, Windows, Tablets like the ipad, but you can also run it on your iPhone and some android devices. So, the most budget option would be to run it on your phone but I need to keep this post going here and it is just boring to run Zwift on a tiny device like a phone. So let's go big… big screen big.
The Apple TV 4K per my experience, is by far one of the best and easiest ways to run zwift. You just can't go wrong with the Apple TV 4K.
It is an incredible device that will give you a fantastic zwifting experience. It's small and connects directly to your TV. Zwift runs natively on Apple TV, and what I mean by that is, you can download the Zwift app directly onto the apple tv from the apple tv app store, and zwift will run on the Apple TV directly. I personally used the Apple TV for many years and rarely had issues with it.
I recommend getting the latest apple TV 4K 2022. You just need the base model, which sells for $125. You only need the higher end version if you have bad WiFi reception and prefer to use an ethernet port.
But the main reason I recommend you get the 2022 model is because it has the A15 bionic chip. This is a much faster processor and has a much more powerful GPU. Zwift is currently not taking advantage of all this power, but I am hoping Zwift will update its Apple TV app to take advantage of the powerful processors the Apple TV 4K has.
I am going to assume that you have an extra tv sitting somewhere in your house that you can use. If not, you can get a decent tv for about $200 these days.
FAN
WHAT TO BUY
– Wahoo KICKR Headwind Fan – $300 (not exactly budget fan but nice).
– Lasko Fan – $50.
– Amazon Basics Fan w/remote control – $72.
Having a good fan is essential for indoor training – not only to cool you down but to also to circulate that air in your training room and keep humidity and co2 levels in check. I personally have two fans, the Wahoo KICKR Headwind fan and a standing fan. The KICKR Headwind is not a budget-friendly fan but works very well if you can afford one – It retails for $300. It has a powerful targeted airflow and can be programmed to be controlled manually, or by your speed, power, or my favorite – heart rate. So depending on how you have it programmed, as you workout and your heart rate or power increase, the fan speed increase as well.
But you can find a lot of good and cheap fans on amazon. Lasko fans are good and provide a good amount of air, and they are not expensive. I had this Lasko fan for many years, and it is only about $50.
I do recommend getting a remote-controlled one so you can adjust the speed without getting off the bike. This Amazon Basics one seems like a good one, and it's only about $20 more.
MEDIA DISPLAY
WHAT TO BUY
– KOM Media Display – $100
You will find having some kind of a table to keep your phone, laptop, snack, water bottles or whatever is a needed luxury. The one I have here is the KOM media display. It's about $100 – and I love its minimal design. It has an anti-slip surface so you can place your laptop or, in my case, an infinite number of bike computers on top. It holds two water bottles and has a slot that can hold your phone or iPad upright. It is lightweight, portable, and easy to adjust.
RUNNING
WHAT TO BUY
– Runn Treadmill Sensor – $100
(you can get 10% off using the TARIQ101 coupon).
If you happen to be a runner as well and have a treadmill that you want to use with Zwift. The RUNN treadmill sensor it a great option. It is by North Pole Engineering and retails for $100. Basically, you have stickers that you place on the treadmill belt or in my case, I used whiteout to paint lines on the belt. The Runn sensor sits on the side of the belt and measures the treadmill speed by measuring how fast the stickers – or whiteout – goes by. Then it broadcasts the belt speed to Zwift. Very simple and super easy to set up. Much easier than a footpod that needs charging and has to sit on your shoe.
So with that, you now have a full and fancy indoor training setup for a really great price.
Assuming you got…
The Wahoo KICKR SNAP for $300.
The cycling mat for $33.
Apple TV 4K for $125.
$50 for a fan.
And the KOM media display for $100
This setup will cost you $608. Not bad, right!? Now, if you decide to go with a Saris H3, which will give you a much better smart trainer for $630, instead of getting a wheel-on trainer, your setup will come to about $938.
And if you are a runner and have a treadmill at home and want to add the Runn sensor, now you will be sitting at around $1038.
That's still much cheaper than many of the high-end trainers out there, like the KICKR or Garmin Tacx NEO 2T. And with these recommendations, you'll still have a quality setup that works well for a pleasurable pain cave experience.
Thanks for reading!
11/21/2022: Fixed typo in the Zwift HUB price and availability.
Last updated on December 5, 2023 3:33 am