PROS
Price
Easy set-up
Virtual shifting
Zwift integration
Quiet
Includes 1-year Zwift membership
CONS
Virtual shifting not compatible with other apps
No folding option for storage
Zwift HUB One is Zwift's latest innovation. Zwift's goal from day one has been to make it super easy to join their ecosystem. And With the new Zwift HUB One they are taking it a step further by giving you:
One: The trainer is priced at $599 — that includes a full year of Zwift membership.
Two: A Unique set of features that are exclusive to the Zwift ecosystem.
The Zwift HUB One comes with the Zwift Cog, a one cog component comes pre- installed and allows the trainer to work with almost any 8-12 speed bike without the need to switch gears. What does this mean for you? No need to worry about the type of cassette you need. Whether your bike is 8 speed or 12 speed, it should fit.
This is beautiful because you can also easily switch between bikes. In my case, I have an 11-speed road bike and a 10-speed TT bike and it's always a headache to switch between these two. Also, no need to worry about calibrating your drivetrain everytime you switch between bikes.
COG + CLICK
If you happen to have the Zwift Hub classic, you can easily add the Zwift Cog to it by simply removing the cassette hub using the 17mm wrench that came with Zwift Hub, I believe it's a 17mm wrench. Simply swap it with the Zwift Cog. Very simple process and no need for any special tools. It took me probably one minute to do. Once the Cog is installed, Lower your bike onto the trainer. Tighten your quick release skewer or thru axle. Turn the pedals, if you hear any clicking or skipping, you might want to shift up or down to align your chain with the Zwift Cog.
The Zwift Cog and Click bundle will retail for $79.99. Zwift is currently offering a limited promotion on the Zwift Cog and Click for $59.99.
VIRTUAL SHIFTING
Virtual shifting is normally only seen on smart bikes, but with the cog, you can get similar shifting experience and much quieter drive train operation than shifting across a cassette. It also comes with the Zwift Click, another Zwift hardware with + and – buttons to initiate virtual shifting. Zwift click is meant to be mounted on Most handlebars (road, flat, and TT) via rubber straps.
If you happen to have the Zwift Play controllers, you should be able to control shifting directly from the Zwift Play rather than the Zwift Click. Personally I prefer to use the Zwift Play on my road bike, but the Zwift Click is perfect for a TT bike setup.
To enable virtual shifting, head over to the Zwift pairing menu, and pair the Zwift HUB as Controllable. And under Controls, pair either the Zwift Play or Zwift Click. You can even pair both if you would like to use the Zwift Click along with the Zwift Play.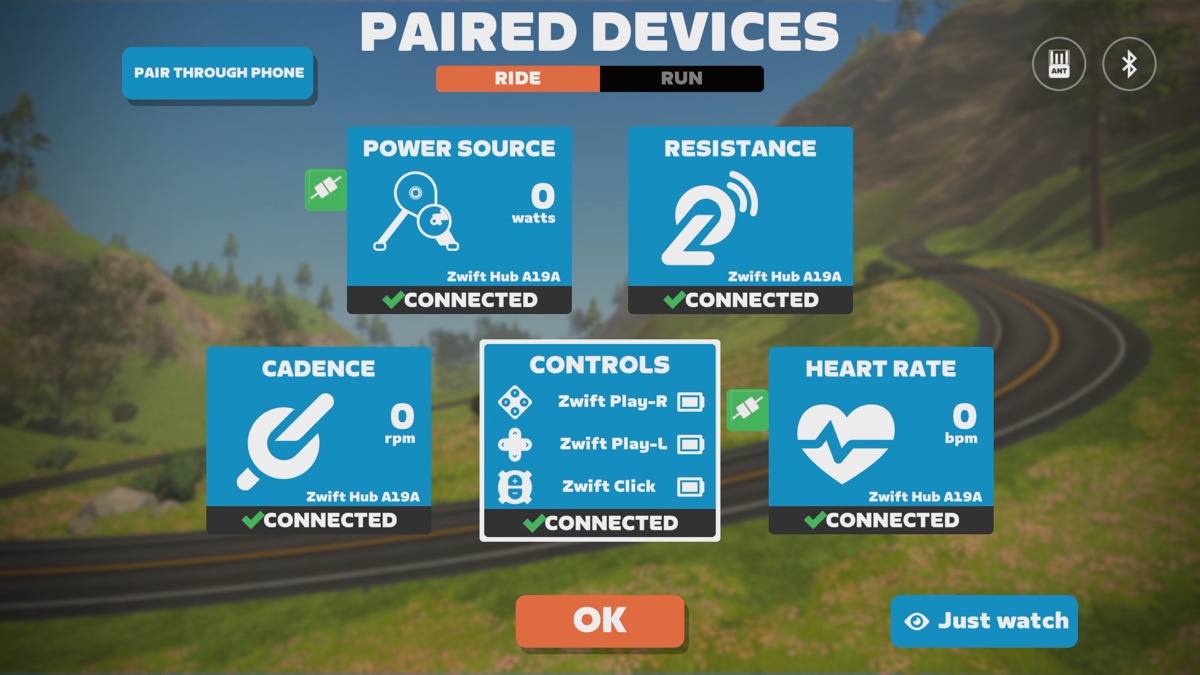 Once everything is paired correctly, head over to the settings menu and under Preferences, navigate to Virtual Shifting and make sure that virtual shifting is enabled.
When you are riding, you should see this gear display appear right below your power showing which gear you are on. The Zwift Hub One's got 24 gears at your disposal. To shift, just hit the + or – buttons on the Zwift Click. If you are using the Zwift Play, The right side button gears you up, and the left one gears you down.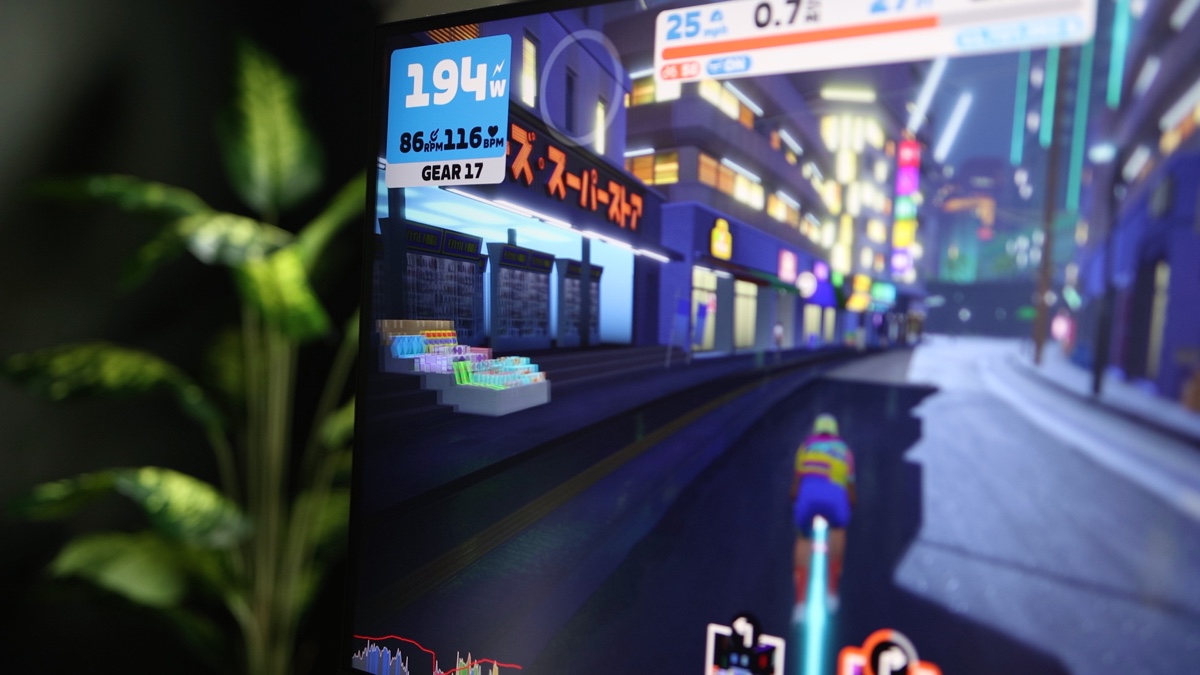 In my experience, Gear switching was snappy, no lag. Zwift really nailed it here, making it smooth and fast right out of the box.
The Zwift Hub One features a virtual drivetrain with 24 distinct gears, mimicking a gear ratio spectrum that goes from 0.75 to 5.49. That's like having a setup from a 30-tooth chainring with a 40t cassette at the low end, up to a beastly 55x10t gear
The Hub auto-calculates your bike's gear ratio every time you hop on. In Sim mode, with virtual shifting enabled, the Hub trainer calibrates your gear ratio right at the start of your ride. If you're using the Zwift Cog, it mainly focuses on your front chainring, since the Cog is a standard 14-tooth sprocket. Now if you are using a regular cassette with Zwift Controllers, It'll calculate the full gear ratio for you. Just a heads-up, this gear ratio is set in the first few seconds of the ride. So, if you switch gears on your actual bike mid-ride, it's gonna mess with your virtual gears. So it is best to just pick a gear and stick with it for the ride.
COMPATIBILITY WITH APPS
Now, here's where it gets interesting: The Zwift Play and Click don't talk directly to the Hub One bike trainer. Instead, everything need to be paired to the Zwift app, the trainer and the controllers. So, Zwift's app is essentially the middleman in this whole operation. So even though you can use the Hub One with other cycling apps, however, you can not use Zwift Play or Zwift Click to control shifting when using different cycling apps. It's fine if you're planning to only use it in ERG mode, but if you want to use sim mode, then you are basically limited to one gear.
Communication for virtual shifting is handled by a new Zwift Bluetooth protocol. Zwift Intend to make this open to other hardware manufacturers to improve integrations with Zwift. So down the line, we might see Wahoo for example implement virtual shifting along with the Zwift play or Zwift click.
SUMMARY
Other than the new virtual Cog, The Zwift HUB ONE is the same trainer from last year. Nothing changed. Same 2.5% power accuracy, measures up to 1800 watts and simulates gradients of up to 16%. And same 10.4 lbs flywheel.
The Zwift Hub Classic, with a choice of traditional 8-12 speed cassette, will continue to be sold under the new name, Zwift Hub Classic. Both trainers are priced at $599 and include one year of Zwift membership. And by the way, you can still use virtual shifting with the Zwift Hub classic trainer with a traditional cassette as long as you have Zwift Play or Zwift Click.
For additional details and look at power accuracy testing using the new Zwift Cog, head over to my YouTube channel for my full video review.
Thanks for reading and watching!