Read our most recent version of top trainer picks for 2017 season.
Nice weather riding is almost over in the northern hemisphere and it's time to move training indoor, (a.k.a pain cave). Fortunately, this year, companies released a variety of new smart bike trainers and it's becoming harder and harder to know which one to choose.
Here, I will only talk about "smart" bike trainers, which means, the trainer have to be able to communicate with third party apps, such as Zwift, Trainer Road, The Sufferfest, Kinomap Trainer, etc, and be able to adjust resistance and simulate terrains automatically via Smart Bluetooth or ANT+ FE-C.
These smart bike trainers, tend to be a little more expensive than your old dumb trainer. However, if you are serious about your training, then a smart bike trainer is a valuable tool. They also offer better road feel which is probably the most important thing when training indoors. Having close to real road feel is the difference maker to having the ability to spend 30min on a trainer before your mind go numb, or spending 5 hours. (Yes, I have done close to 6 hours rides indoor on many occasions).
All the trainers I am recommending here are Smart Bluetooth (BT) compatible and ANT+ FE-C, which mean they have open communication with most third party apps, your Garmin devices such as Edge 520, Edge 820 or Forerunner 920xt, Fenix, Wahoo ELEMNT, or any other device that is ANT+/BT compatible.
One of the issues I am having as I am writing this post is the availability of some of the new trainers.  Some companies announced some very interesting trainers that are worth mentioning here, however they are not available yet. One trainer in particular is the Tacx Flux (Update: Read our take on the Tacx  Flux here). I am very intrigued with that trainer because it basically offers many of the functions of the Wahoo KICKR and Tacx NEO at a very attractive price point. However, the trainer isn't going to be available until late this year. I am also hesitant to recommend it here because I didn't get a chance to fully test it yet.
Direct Drive Or Wheel-On Trainer
Aside from budget, one thing you need to consider is the type of trainer you want. A direct drive requires you to remove the rear wheel and affix your bike directly onto the trainer. The wheel-on trainer, doesn't require you to remove the rear wheel but you might need to get a specific trainer tire which you can get for about $30-$40.  Also, direct drive trainers tend to be more accurate and not as loud as wheel-on trainers.
Top Direct Drive Trainers:
The Tacx NEO is a very solid trainer with a lot of functions that will take your indoor training to the next level. The Tacx NEO requires no calibration, and provide highly accurate power reading. It is the only trainer that offers road surface simulation (requires compatible software such as Zwift), and descents simulation up to -5% grade. The trainer is extremely quiet, and I do mean quiet. The only thing you will hear is the sound coming from your drivetrain.
The NEO transmits power, speed, and cadence even when unplugged from power outlet, which is nice if you want to take it on the road and have no access to power. However, you will loose some of the interactive functionality when unplugged from power.
The Tacx NEO is very easy to setup and use and compatible with most indoor cycling apps such as Trainer Road, Zwift, The Sufferfest, Bkool, and many other apps. The Tacx NEO was also rated as the top trainer for Zwift.
The Wahoo KICKR, is, without a doubt, a solid direct drive trainer. It's one of the first smart trainers on the market and is widely supported in the cycling app market place. The price point is very attractive as well and comes with an 11-speed cassette and Wahoo RPM cadence sensor.
I didn't find the The KICKR 2 as accurate as the Tacx NEO. However, you can easily control the KICKR with your powermeter once your powermeter is paired. More about this in our in-depth review, which you can read here.
The KICKR 2 is rigid and doesn't offer the lateral rocking motion you get with the Tacx NEO. I personally like to feel the bike move a bit with me but not everyone is a fan of that so it's more of a personal preference.
Also, the KICKR 2 is very quiet compare to the KICKR 1 but not even close to the TACX NEO or Elite Drivo. So if noise is an issue for you, then take a look at the Tacx NEO or Drivo.
This is another direct drive trainer. The Elite is taking third place here because of their claim of extreme power accuracy. I really wanted to put the Elite at second place ahead of the KICKR, but the more I looked at it the more I questioned Elite's design team. The trainer is without a doubt heavy and solid and will withstand the toughest workouts. However, there is that cheap plastic feel to it and in all honestly I wonder how it will perform with many years of abuse and heavy sweating. If you decide to go with the DRIVO, make sure you take a look at it. The earlier models had some imprecision in the design but the newer unit should have those issues resolved. You can read my full Elite DRIVO review here.
What makes The Drivo very attractive though is its power accuracy. If you don't have a power meter and accurate power measurement is important to you, then I highly recommend this trainer. It features a 24 point power measuring system,with a +/- 1% accuracy, for each pedal stroke. It is also extremely quiet, not as quiet as the Tax NEO though.
The Elite Drivo is compatible with most indoor cycling apps such as Trainer Road, Zwift, The Sufferfest, Bkool, and many other apps.
[supsystic-tables id='1′]
Wheel-on Trainers
The following trainers are wheel-on type trainers. These indoor trainers tend to be cheaper than direct drive trainer but offer less maximum wattage and not the same real road feel the direct drive trainers offer. However, overall, they offer many of the same functionality and all these trainers can communicate via Smart Bluetooth and ANT+ FE-C. With these wheel-on trainers, you leave your rear wheel on which some prefer to do and not have to deal with taking the rear wheel off.
Wahoo KICKR Snap – $600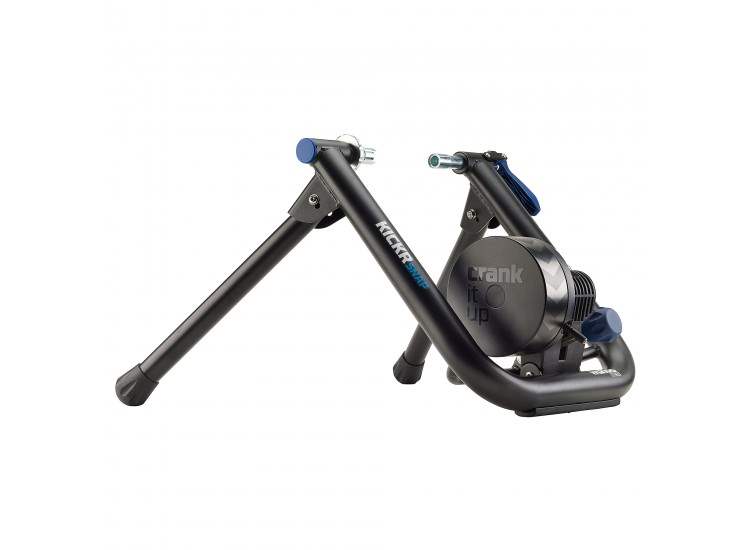 The KICKR Snap is a wheel-on smart bike trainer. Unlike direct drive trainers mentioned above, with the KICKR Snap, you can leave your bike wheel on and attached your bike to the KICKR Snap. The KICKR Snap is an interactive trainer and gives you a very close to real road riding experience.
The KICKR Snap will broadcast power and speed and communicate via Smart Bluetooth and ANT+ FE-C with third party apps just like the Wahoo KICKR. Power accuracy is around +/- 5% which is in line with other wheel-on bike trainers.
I wanted to list this before the KICKR Snap because of their claim to power accuracy. According to CycleOps, the Magnus is PowerTuned using PowerTap technology for accurate power readings and claim accuracy of  +/-1%. However, a production version of the trainer isn't out yet as of writing this post and I haven't been able to test it. If their claim of power accuracy is true, then this is very impressive for a wheel-on smart trainer. And for the same price point as the KICKR, I would recommend the CycleOps Magnus over the Snap.
The Magnus utilize the integrated dual ANT+FE-C and Bluetooth 4.0 technologies for syncing up ride data with your virtual training program of choice.
The Magnus expected to ship mid October.
Tacx Vortex Smart Interactive Trainer – $500
This trainer is cheapest smart trainer I would recommend and you can probably find it for less than $500. Right now, Amazon has it for $500.
The Vortex Smart is an interactive smart trainer with an electro brake. By placing magnets and electro magnets beside a rotating aluminium disc, eddy currents are created which generate an opposing magnetic field. It can generate power up to 950 watts and slop up to 7%. The one neat feature about the Vortex is that it offers descent simulation as well.
The Vortex supports Smart Bluetooth and ANT+ FE-C technologies for syncing up ride data with your preferred cycling app.
[supsystic-tables id='8′]
Anything cheaper than that?
Yes, you can get cheaper "smart" interactive trainers for less than $500. The Tacx Satori is listed for $300 on Amazon. However, it is not a truly interactive and it doesn't support ANT+ FE-C technologies so you will have to manually adjust resistance thus why I am not listing it here.
However it does broadcast power/speed/cadence via Smart Bluetooth/Ant+ and you can use it with a number of compatible cycling training apps such as Trainer Road or Zwift. But like I mentioned earlier,  you will have to manually adjust resistance to simulate any changes in terrain using a lever connected via cable.
What about smart rollers?
Unfortunately this is an area up for grab. Inside Ride were suppose to release their smart control unit last year but that never happened. Late this summer, they discontinued that project all together and replaced it with a smart resistance unit from Elite, similar to the unit found on Elite's QUBO digital Smart B+ trainers and was suppose to be available mid September and now end of October/early November.
Inside Ride purchased the Elite units (which are made for a wheel trainer) and modified them mechanically into a belt drive so they can be mounted to the rollers. Each modified unit is then attached to a test stand and calibrated to a known standard before they are shipped.
Once I have additional information on the new wireless unit, I will probably have a dedicated post to discuss the unit in more details.