PROS
Solid build
Rock and Roll
Great ride feel
Dual ANT+ FE-C, BLE, FTMS
CONS
Power measurment outside of claimed accuracy
Over report power during sprints
Can be noisy
The Kinetic R1 smart direct drive trainer was announced almost a year ago at Eurobike 2018. There were anticipation and excitement, but this one was especially exciting because it's different. It is the only trainer that offers true Rock-and-Roll motion and it was coming from a company that made one of the best classic "dumb" trainers.
However, the R1 was met with early problems. I had my hands on an early production unit last year and I published a video voicing my concern with the electric boards Kinetic uses. The unit I received had a faulty electric board and was dead on arrival.
Credit to Kinetic, they pulled the unit off the market and stopped sales of the R1. According to Kinetic and my conversation with them, the first delivery had a fuse issue that was introduced by the manufacturer after they approved the boards. There were approximately 50 R1 units and a handful of control units that went out with those bad boards before they could identify the issue. All of those machines were warrantied and sent replacement boards.
They are now confident with their new supplier and the R1 is back on the market.
Like other trainer brands we've worked through various issues with speed sensors and the occasional faulty PCB.

We would definitely have never characterized any of these as widespread and we've done our best to remedy all PCB and sensor issues in a responsible and timely manner.

Our current supplier is now solid and we have every confidence that this was all an unfortunate blip at the start of manufacturing these more technically advanced products.



I have been using this new unit for about three weeks now and here is my review.
TECHNICAL SPECS
PRICE: $1050
MAXIMUM RESISTANCE: 2,000 watts.
MAXIMUM SLOPE: 20%.
FLYWHEEL: 14 lbs/6.7kg
CLAIMED ACCURACY: <+/-3%.
BIKE COMPATIBILITY: Compatible with 130 mm and 135 mm quick-release hubs and 142 mm and 148 mm (Boost) thru-axles.
CASSETTE COMPATIBILITY: Supports Shimano, SRAM, SRAM XD Drivers and Campagnolo cassettes (replacement freehub required for XD and Campagnolo cassettes).
CONNECTIONS: ANT+ FE-C, Smart Bluetooth, and FTMS.
CALIBRATION REQUIRED: Yes.
METRICS: Transmits power and speed.
SETUP
The Kinetic R1 is one heavy trainer. It's packed very well. The trainer doesn't come with a cassette so be ready to provide your own.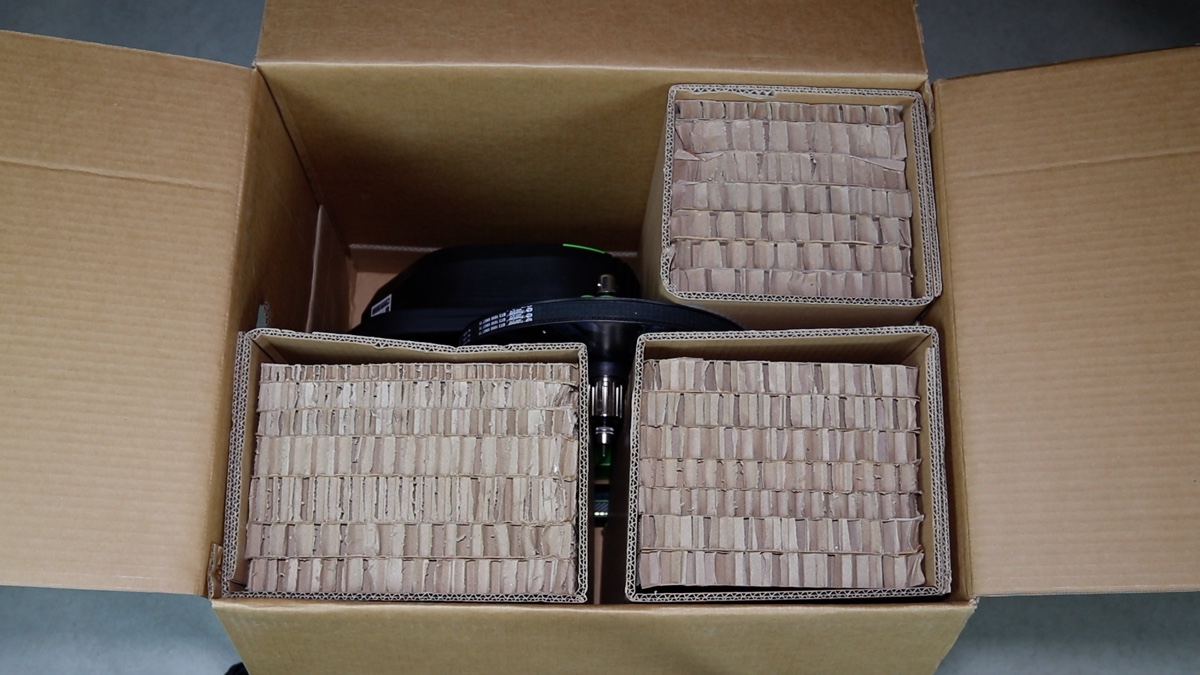 You will find the following in the box:
Power cord.
QR Drop out spacers 130/135mm.
142/148mm thru-axle spacer.
Quick release skewer.
10-speed cassette spacer.
Free 6-month trial to Kinetic Fit app, 30-day trial to Rouvy, and 30-day trial to The Sufferfest.
You need to provide your own cassette and install it. The R1 is compatible with 8-11 speed Shimano and SRAM. Campagnolo and XD are also compatible but you need to purchase a separate freehub which you can find on Kinetic's website.
You can purchase an 11-speed Shimano 105 cassette for about $45 but if you are still on a 10-speed cassette then you can save a few dollars and get a 10-speed Shimano 105 cassette for about $50. If you need a cassette plier, the Feedback Sports cassette plier and Cassette Wrench are one of my favorite and easy to use. But you can find cheaper chain whip, a lock ring tool and any adjustable wrench.
Once assembled, pair the R1 to the Kinetic utility app available for iOS and Android devices to check to see if there is a new firmware available. The firmware can be updated wirelessly using the Kinetic Fit app.
While you are in the app, run the calibration to set the brake strength and accurate power measurement. For best results, ride the trainer for about 10-minutes and perform the calibration. Calibration on direct drive trainers should be done once every couple of weeks, if you switch bikes, or if you move the trainer around.

APP COMPATIBILITY
The Kinetic R1 follows all the new wireless communication standards. It's dual ANT+ FE-C, Smart Bluetooth, and FTMS compatible. I tested it with TrainerRoad and Zwift and it worked well in both.
The Kinetic R1 originally had cadence measurement, however, the company removed cadence later on and instead, they are including a separate cadence sensor. They plan on adding cadence measurement back via a firmware update but no word on when this will happen.
This is generally fine, however, if you use Apple TV to run any cycling apps such as Zwift for example, then you will run into issues pairing all your devices. Apple TV only allows for two Bluetooth connections. You can pair the Kinetic R1 as a controllable trainer and power using one BLE connection. Then you are left to decide if you want to connect your cadence sensor or heart rate monitor. Few workarounds exist. One is to use Zwift companion app to pair additional sensors. This is a non-issue if you use your PC or mobile device.
The R1 also has a hard wired USB port option. You can forgo wireless all together and hard wire it to your PC. However, as of today, the majority of apps don't support this. I think PerfPro is the only app out there that supports a hard wired connection but didn't get a chance to test it.
Interestingly, I posted a poll on Twitter to gauge interest in a wired connection. 63% of Twitter was fine with wireless and had no interest in a wired option.
I think with the emergence of esports and group rides, a reliable and secure connection is essential. I have a feeling we might see more trainers add a wired option in the future. But for personal home use, I am also ok with wireless.
NOISE
If you want to hear how the trainer sounds, you can watch the video above. But if you prefer to just skip to the noise demo section, here is the link.
I didn't think it was too loud. At least, not as loud as the original unit. I would say it's as loud as the KICKR 2017 or CycleOps H2. Maybe a little louder. But in today's standards, we expect trainers to operate without producing much noise.
RIDE FEEL
The R1 is equipped with a heavy 14 pounds flywheel. The ride feel felt really good. The flywheel will coast what it feels like forever. This massive flywheel coupled with Kinetic's patented side to side movement will give you one of the best rides on an indoor trainer.
The R1 is also equipped with Kinetic's patented Rock and Roll motion. Meaning, it rocks side to side to emulate the side to side rocking you do when you ride outside. The rocking felt solid and there was just enough tension to make you feel stable and move side to side when pushing down on the pedals. This rocking motion should alleviate some of the saddle discomforts some might experience when riding on a rigid trainer.
This side to side movement is adjustable allowing you to tune it to your personal preference. You will find two bolts underneath the trainer to make the adjustments.
Kinetic also sells a Turntable Riser Ring which you can get on Amazon for about $39. The idea behind the riser ring is similar to the InsideRide Floating Fork. When you ride your bike outside, you balance by engaging your core and move side to side. This movement allows the bike to tilt and rock side to side. This turntable allows you to freely move the handlebar side to side for a more natural side to side tilting.
POWER ACCURACY
Kinetic claims the R1 is accurate within +/-3%. Below is a 3×8 min workout in ERG mode. My power target was 275 watts. As you see below, ERG mode performed well and finished each interval within +/-2 watts from my target power.
Now, let's see how close it was to my other power meters. I tested it against my crank-based Power2Max and Assioma pedals. When I overlay the data from my power meter on top of the R1's reported power, you can see the R1 reporting a little higher.
In most cases, the trainer was measuring power between 4% to 8% higher.
Now let's take a closer look at ERG mode. I like to look at the power distribution to see how quickly the trainer adjust to variability in my cadence and power. So here, the power numbers are again from my power meter. According to my power meter, I averaged around 261 – 262.
So if I look at the power distribution (ignore that little dip in power in the 3rd interval). In the first interval. I was in the small chainring. So anything within 10 watts of my average, I consider that within my target zone.
So, assuming the average was 260, then my target zone is set to 250 and 270.
According to this chart, I spent 85% of the time within my target power.
That's 6:41 min. 7.4% over 10 watts of my average or 35 seconds and 7.6% under my target zone.

Generally, in the small chainring, you see very smooth lines and I usually see numbers over 90%. That's an indication of how quickly the trainer adjusts to my pedal stroke.
When I switched to the big chainring and bigger gear, the numbers dropped to 67% and 64% which I find to be the norm for any trainer.
Now, one thing to make clear here, this isn't necessarily a bad thing depending on how you look at it. You might find it easier to hold your target watts in the smaller ring than other trainers and that's due to the fact that the trainer doesn't lock you at a specific power number. I did a whole video on ERG mode which you can find here.
Now, let's go back to one of the workouts I did. What you are seeing below is data from Kinetic R1 for one of the intervals without any smoothing.
To me, it looks like there is some kind of power smoothing going on that might not be working well. I wasn't feeling any resistance changes. Actually, the trainer feels very smooth in erg mode and actually pretty good.
As for sprinting, the trainer overshoots sprints by over 1000 watts.
And here is a closer look inside the sprints. I was only around 700-800 watts when the trainer started reporting 2000 watts and stayed there.
There is also this offline resistance mode.
You can set the brake position in the app. It goes from 5 to 100.
Why would you want to do that? Well, the idea behind this is to allow you to use the trainer without having it plugged into power. So if you want to take it out to a race location or some vacation spot where you might not have access to power. Then you have some resistance.
FINAL THOUGHTS
The Kinetic R1 is a well made direct drive trainer that missed the mark. For $1,050, you get high-end specs, great road feel and Kinetic's unique and patented Rock and Roll movement.
Reliability and power accuracy are my two main concerns and in particular the unreliable measurement during sprints. This automatically disqualifies the trainer from any virtual racing and you might be hearing more about it if you ever catch someone on an R1 during a Zwift race.
The +/-3% might not be that bad if they get it down to that, but it's still well beyond what we are seeing today from other mid-range to higher-end trainers. This is more wheel-on trainer territory, and you might even get better accuracy results from a wheel-on trainer if it's calibrated correctly.
Either way, I think the R1 has the potential to be one of the best trainers out there. Kinetic needs to address these issues. I personally don't see this happening with the current model or via a firmware update. If they haven't gotten the accuracy down one year after the initial release, then I have my doubts it will ever happen.
And that patented Rock and Roll technology is something they need to take advantage of before it's too late.
WHERE TO BUY
Kinetic R1 is available at most online retailers. You can purchase one directly from Amazon or CleverTraining. You can also check out our price tracker for other deals on the Kinetic R1 or other trainers.