I saw the Feedback Sports Omnium a few years ago and was impressed with its design and portability. You've probably seen some photos of the trainer online and on social media. The Omnium has been around a few years now so this trainer isn't new in this market.
Unlike other bike trainers I review here, this one is not smart. What I mean by that – it will not transmit power metrics or pair with other applications via Bluetooth or ANT+. It's basically your classic trainer without all the bells and whistles of smart technology. You can still pair it to Zwift or TrainerRoad for example but as a classic trainer using a speed and cadence sensors. Your speed will be converted into Virtual Power.
I wanted to review this trainer on here for two reasons: Its light weight and portability. Smart trainers are great but they tend to be heavy and impossible to carry around on trips or take on a plane. I've skipped some workouts when traveling because I am either not familiar with the area or I just didn't have space or luxury to fly my heavy 40+lbs bike trainer with me.
I have worked out a deal with OutdoorPlay for a 15% off the FeedbackSports Omnium with the progressive resistance w/tote bag. Just use my code TARQ15 at checkout. You get free shipping as well. 
WHAT'S IN THE BOX
The Omnium comes in a smaller box and comes with a heavy-duty tote bag for transport and storage. Not much to assemble other than connecting the front fork tripod stand to the rear drums and that's all. Nothing else to assemble.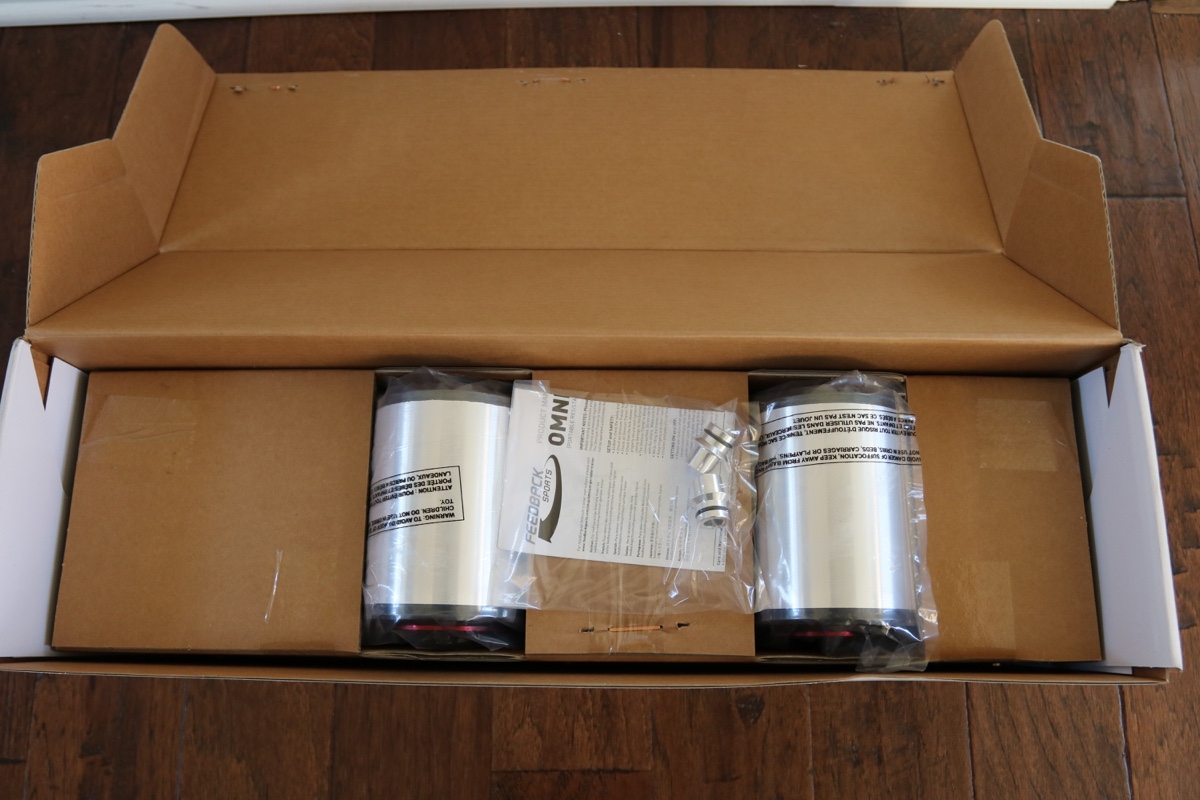 You will need to connect the rear drums and front fork stand once you take it out of the box.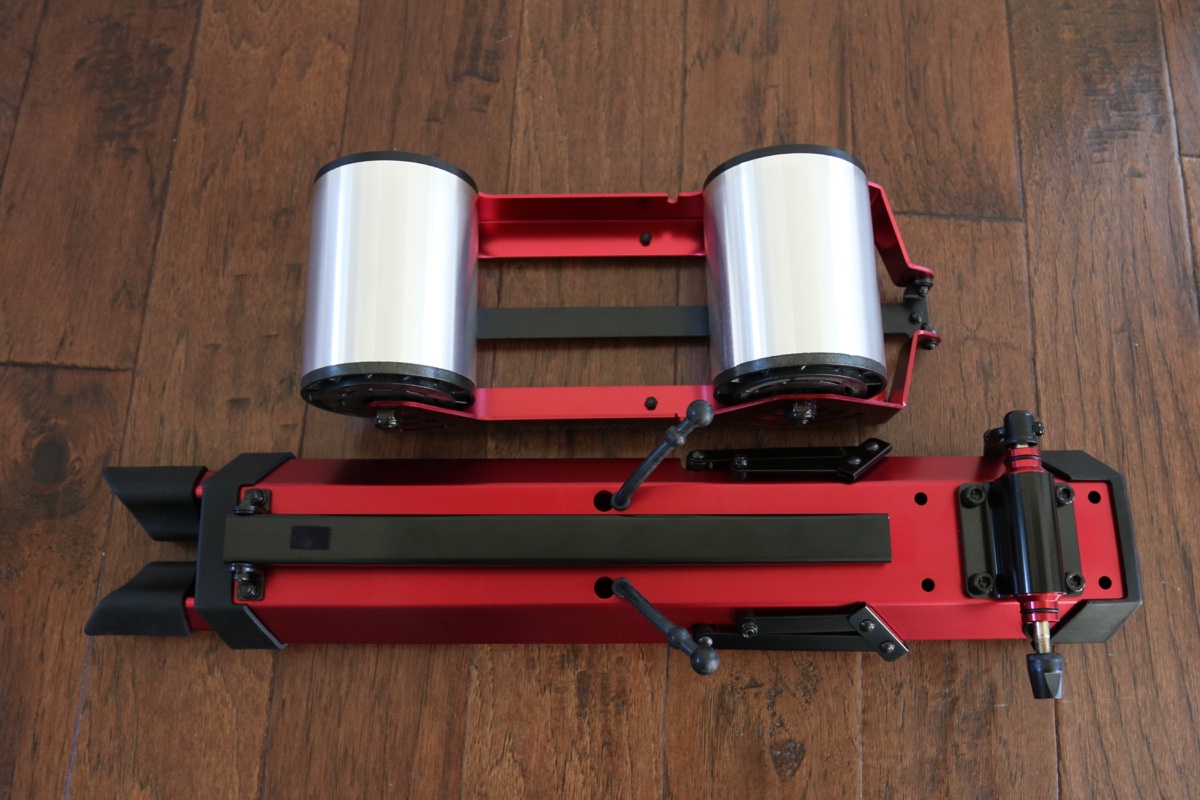 To connect the front fork to the rear drums, simply slide the knob into track and hand tighten it.
And here it is. This is how it looks like once both parts are connected.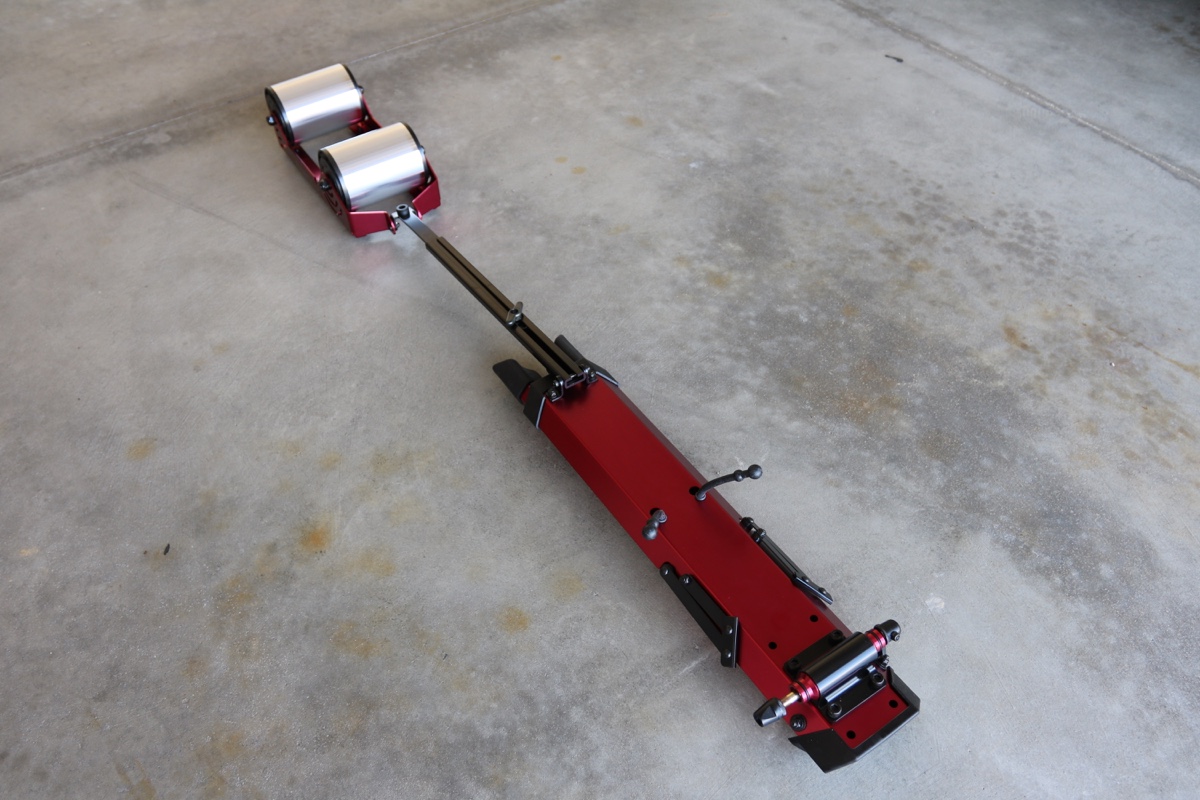 To place your bike on the Omnium, all you need to do is remove the front wheel and connect the front fork to the fork stand. The Omnium is compatible with standard QR, 12mm, 15mm and 15mm boost front forks. You don't need to remove the rear wheel or miss with any gears. When placing the rear wheel on the rollers, spin the wheel with your hand to make sure it touches both rollers. If it doesn't, move the rollers forward or backward until the wheel sits on both rollers.
PORTABILITY
The Omnium weights 14lbs and only 25.75″ x 7.25″ x 8″(66 cm x 18 cm x 20 cm) when folded. It comes with a heavy-duty tote bag for transport and storage. You can take it with you as a carry-on when traveling and it can be placed in the overhead compartment on planes. You can easily carry it around with you to the pool for a swim/bike training session, pre-race warm-up, indoor group workout, hotel room, steam room for those heat training sessions, etc. Its light-weight and the one-piece quick folding design makes folding and unfolding the trainer and moving it around very easy.
Here is the Omnium folded next to my water bottle for size comparison.
Folding and unfolding the Omnium is very easy. Here is a GIF of how it's done:
THE OMNIUM IN ACTION
The Omnium utilizes Internal Progressive Resistance. There is a high power magnet inside each roller drum. As you increase speed, the gap between the magnets and the drum wall decrease, and in turn, increases resistance. The resistance will feel a lot more like a fluid trainer. You can increase and decrease resistance by switching your bike gears just like you do when riding outdoor. I had no problem sprinting and putting high watts and still had more gears to boot.
The downside of this is the lack of a heavy flywheel that is key to give you that real world inertia. You will find that as soon as you stop pedaling, your rear wheel will stop within few seconds. This doesn't mean the road feel is bad on this trainer – it's actually good and it felt better as the tire warmed up. I would put it in-line with some of the mid-range fluid trainers.
You might also find uneven resistance throughout the pedal stroke. Riding it at first didn't feel smooth. At least not the way rollers feel. However, after spending more time I realized this can be attributed to two things:
Slower speed: the drums are small on the Omnium and don't offer enough inertia so you want to keep the wheel spinning. The higher the speed the better it will feel.
Check your pedal stroke: I think this is the main factor to the uneven resistance. If your pedal stroke isn't smooth, it will amplify the sensation of the uneven smoothness. This can be a good thing as it made me aware of my pedal technique and the smoother and faster I pedaled, the smoother the rollers felt.
Since the rear wheel isn't attached to anything, you will find the rear wheel floating on the roller drums giving you a little natural road feel and it kind of releases some of the saddle pressure that you might feel on a typical wheel-on or direct drive trainer.
NOISE
The Omnium was surprisingly quiet using my regular 30mm wheels and Continental Grand Prix 4000s II tires. Considering two drums touching the wheel, the noise level was still very low even at higher speed. 

In my trainer noise scale, I would put the Omnium at 4 which puts it below the Wahoo KICKR and in the same range as the Wahoo SNAP.
VIRTUAL POWER
The Omnium is not a smart trainer, so it will not broadcast or connect wired or wirelessly to any device. If you want to use it with a third-party app, you will have to either use a powermeter or speed and cadence sensor.
The good news is – TrainerRoad and Zwift support the Omnium – meaning they will use the trainer's power curve to estimate power based on your speed. This is also known as Virtual Power. I didn't test how accurate the virtual power reading from TrainerRoad or Zwift. Virtual Power varies a lot by rider, setup, and condition. Results can be different from rider to rider. If you decide to use any application with virtual power, just be consistent with your setup and tire pressure and your power numbers should be consistent from ride to ride.
As you see in the pictures above, Zwift and TrainerRoad support the Omnium. All you need is a speed and cadence sensor like this one from Garmin.
FINAL THOUGHTS
Smart bike trainers are great tools if used right. However, their weight and size can make it difficult for athletes to take with them. As a triathlete, I've been to races where I was uncomfortable taking my bike outside days before the race. The traffic and unfamiliarity with the area made me a little reluctant to go out and would've loved to have a trainer with me to bike in my hotel room.
The Omnium intelligent design, simplicity, lightweight, portability and quiet noise make it an ideal trainer for many athletes. It can fit in a small tote bag, and you can take it on a plane as carry-on luggage or place it between the seats in your car. When traveling on business or for a race, I just find it easier to ride in my hotel room rather than trying to find a place to ride in an unknown city.
The Omnium comes in two models, a Track optimized version for $370. The track version doesn't come with progressive magnetic resistance and is optimized for track, pre-race warm-up, and travel. The other version comes with the progressive resistance and retail for $400 and ideal for travel, race-day warm-up, and interval training.
I have also worked out a deal with OutdoorPlay for a 15% off the FeedbackSports Omnium with the progressive resistance w/tote bag. Just use my code TARQ15 at checkout. You get free shipping as well. 
SPECS:
Total weight: 14 lbs (6.35 kg)
Folded dimensions: 25.75″ x 7.25″ x 8″(66 cm x 18 cm x 20 cm)
Accepts forks w/ standard QR, 12 x 100, 15 x 100 & 15 x 110 (boost) thru axles
Accommodates wheel sizes 600c – 700c, 26″-29″
Adjustable wheelbase and fork-mount height for various bicycles (road, MTB, Cx)
Aluminum drums: 4.0″ diameter, double-wall design
Rider weight limit: 225 lbs
Wheel base from 840mm to 1200mm
Bearings are greased and sealed, requiring no maintenance
3-Year Warranty
$490.00
in stock
9 new from $490.00
2 used from $348.49
as of December 5, 2023 2:34 am