TechnoGym, a company well known for their fitness equipment, quietly released a new smart bike trainer, simply called, MyCycling. The bike trainer is a direct drive trainer priced at $1,995 and is available now to order at select locations.
TechnoGym has been around since 1983 and the company specializes in gym equipment. You've probably seen their machines at your local gym. They are well-known for their weight machines, spinning bikes, and treadmills. I've personally used their equipment at my local gym including their treadmills and from a personal experience, their treadmills are one of the best I've used.
Indoor bike trainers have been dominated by mostly new startups, like Wahoo, STAC, and old-timers like CycleOps, Elite, Tacx, and Kinetic. These are companies that specialize in cycling products and know the industry well. However, TechnoGym is no stranger to cycling and bike trainers. They created the SPINTRAINER in the 1990s that was a cutting-edge product at that time and used by many professional cyclists.
So when I heard about their new offering, I was intrigued, so I reached out to TechnoGym to get some details. With that, let's dig a little deeper into this new bike trainer.
SPECIFICATIONS
MyCycling is a direct drive smart bike trainer, meaning you need to remove the rear wheel to attach your bike into the cassette. An 11-speed 12-23T cassette is included.
The trainer comes in a nice box for storage. Legs unfold and fold nicely for storage just like you see in the photo below.The trainer weighs just under 40lbs. For comparison, the Wahoo KICKR weighs around 47lbs and the Elite Direto weighs about 33lbs.

The trainer comes with a heavy 5kg (11 lbs) flywheel inclosed inside a cast aluminum body and is compatible with 10 or 11-speed cassettes. The direct drive can accommodate 130-135mm/5.1-5.3in(quick release)/ 142 mm / 5.6 in (pass-through pin).
TechnoGym designed the trainer with road feel in mind. When I heard the term Road Effect System, I thought TechnoGym designed a similar road simulation system like the Tacx NEO but according to TechnoGym, it's a system designed to give the same feeling of outdoor riding in terms of inertia – which I would expect with a 5kg flywheel.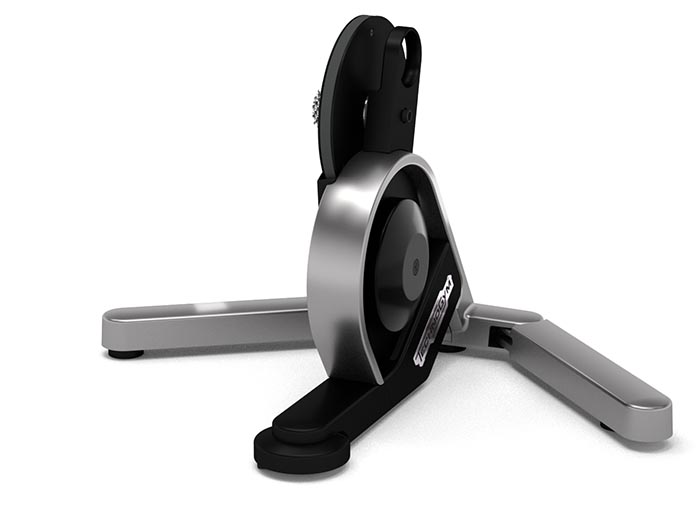 The company claims the MyCycling trainer is very quiet and you will only hear "the sound of your own breathing and the chain turning as you pedal." I can't confirm this since I didn't have a chance to test it. But speaking to some users, it's not as quiet as the company claims and listening to the sound in their video, you can hear a little humming noise similar to the KICKR – which makes sense since it uses the same belt technology as the KICKR.
TECHNOLOGY AND CONNECTIONS
MyCycling supports ANT+ protocol and Smart Bluetooth. According to TechnoGym, MyCycling is compatible with Zwift and other apps as long as the app supports Bluetooth 4.0 protocol. ANT+ FE-C isn't currently supported but the company is planning to support it via a firmware update later this year.
MyCycling can support up to 2100 watts, and maximum slope of 15%. The company claims accuracy of +/-1% which is impressive and puts it in-line with other top of the line smart bike trainers such as the Tacx NEO and Elite Drivo.
The trainer comes with a subscription to MyCycling Training apps. The app provides training plans, and "Pedal Printing".  Pedal Printing analyzes and provides continues feedback on the circularity and symmetry of your pedal for each 360º pedal revolution. You will also be able to see right and left leg power analysis.
The app also provides access to a TechnoGym network of coaches that are supposed to interact with you directly and build a training program based on your individual characteristics. Then you will have periodic online check-ins and receive monthly training plan updates from your coach. This all sounded good until I realized I have no coach that I can communicate with in my area. So this is in its early stages currently and will be interesting to see how this progress.
Interestingly, when the app asked me to connect to MyCycling trainer, it found my Tacx Flux and connected to it. It was able to read power, speed, and cadence but couldn't control it.
Overall, MyCycling looks interesting. But with a price tag of just under $2,00, I don't see how they can even make a little dent in this industry. The trainer doesn't offer enough features to distinguish itself from other leaders in this market. Tacx pushed the limit with their $1,600 NEO but you could justify that price with the NEO's accuracy, almost silent, virtual flywheel, road feel simulation, and soon to come pedal analysis.
TechnoGym could have a good product on their hand to compete with other smart trainers, but until they find a way to drop the price and open the trainer to other applications, I just don't see why anyone would go and buy one.
TECHNICAL SPECIFICATIONS
Power measurement: Direct
Watt reading accuracy: ±1%
Resistance: Magnetic
Data transmission: Bluetooth® Smart / ANT+
Measurements: Speed,distance,power,pace,gradient
Flywheel: 5kg
Dimensions(closed): (LxWxH)570x280x500mm/22.4x11x19.7in
Dimensions(open): (LxWxH)570x830x500mm/22.4×32.7×19.7in
Weight: 18 kg / 39.7 lbs
Maximum user weight: 130kg/286.6lbs
Material: Cast aluminum
Maximum power: 2100 watts
Drive: Toothed belt
Bike compatibility: 130-135mm/5.1-5.3in (quickrelease)/142 mm / 5.6 in (pass-through pin)
Sprocket set housing (included): 11v 12-23T