PROS
Good road feel
Good accuracy & powermatch option
Very quiet
Strong frame
11-speed cassette is included
No assembly required
The KICKR has been dominating the smart trainer market and has been the choice for many athletes. Its indestructible frame, good road feel, accuracy, bike, and app compatibility made it an easy choice for anyone looking for a smart trainer. However, its loud noise made some people shy away. Wahoo went on to change that and made the 2018 model almost silent.
Wahoo has been updating the KICKR annually since 2016. This is the fourth generation KICKR and just like the previous years, the updates are usually minor. This year, Wahoo upgraded the flywheel and went from 12.5lbs to 16lbs and made the trainer very quiet.
Before I get into the actual review, I want to first mention that Wahoo did send me a unit to review that I will be sending back. Also, I have my own Wahoo 2018 model that I purchased myself.
QUICK KICKR 2018 HIGHLIGHTS
PRICE: $1,200
DESIGN: The KICKR is built with a steel frame. It comes with foldable legs, and adjustable height and a handle.
MAXIMUM SLOPE: The KICKR 2018 can simulate gradients up to 20%.
ACCURACY: The KICKR 2018 has a maximum power output of 2,200 watts and +/-2% accurate.
BIKE COMPATIBILITY: The KICKR 2018 is compatible with 24″ RD / 24″ MTB / 650c RD / 26″ MTB / 700c RD / 650b MTB / 29″ MTB and compatible with 130/135mm QR, 12×142, and 12×148 Thru Axle hub.
CASSETTE COMPATIBILITY: The KICKR 2018 is compatible with 8/9/10/11 Speed SRAM/Shimano. Cassette isn't included.
CONNECTIONS: Smart Bluetooth, ANT+ FE-C compatible. The KICKR 2018 and KICKR CORE are still not Bluetooth FTMS compatible.
NOISE LEVEL: The KICKR 2018 is very quiet. More on my noise demo here.
ROAD FEEL: The KICKR is built with a new heavier 16 lbs flywheel for better ride inertia.
CALIBRATION REQUIRED: Yes
METRICS: Transmits power and speed but no cadence.
WHAT'S IN THE BOX
The KICKR 2018 comes ready to ride. As long as you are ok with the cassette included, there is no assembly required.
Here is everything you find in the box:
AC power adapter
Quick release skewer (pre-installed)
Disc Brake Caliper Spacer (install on the brake to prevent pads sticking)
1.8mm axle spacer (for use with 10-speed cassettes)
Drive side adapter for 130mm and 135mm quick release (pre-installed)
Reversible hub spacer for 130mm and 135mm quick release (pre-installed)
Drive side adapter for 12x142mm and 12x148mm thru axle
Reversible hub spacer for 12x142mm and 12x148mm thru axle
RPM Cadence sensor
SMART CONNECTIONS & APP COMPATIBILITY
The KICKR is Bluetooth and ANT+ FE-C compatible. Wahoo hasn't adopted Bluetooth FTMS into their trainers yet. For Wahoo, this isn't that big of a deal since most apps are already compatible with Wahoo Trainers.
As for app compatibility, almost every app is compatible with the KICKR line of trainers. That's one of the advantages of Wahoo Trainers. You just know it will work with almost every cycling app available.
The KICKR can also connect to any bike computer or device that support ANT+ or ANT+ FEC such as Garmin Edge devices or Wahoo ELEMNT or ELEMNT Bolt bike computers.
ROAD FEEL
The KICKR 2018 was upgraded with a heavier 16 lbs flywheel. That's 3.5 lbs heavier than the previous models. According to Wahoo, the "heavier flywheel was specially engineered to provide riders with a more precise inertia needed to recreate an outdoor ride feel". This one is hard to measure but the KICKR always had one of the best road-feel of any indoor trainer. For comparison, the KICKR CORE has a 12 lbs flywheel and you will feel a slightly better road feel on the KICKR 2018 but I wouldn't say it is noticeable.
POWER ACCURACY
Wahoo claims +/-2 % power accuracy. That's pretty good and I went on to prove their claim. Generally, with a 2% accuracy, you would expect to see a very close match with the occasional separation. So I am looking for a difference of around +/-3% assuming my powermeter can drift about +/-1%.
I put the KICKR against my Power2Max power meter and P1 Pedals to see how close they are. Generally, when looking at these numbers, it's important to keep in mind that many ELEMNTs can affect the reading. My powermeter can have an off day or my bike computer can have its own issues. That's why I put each trainer through a lot of test rides and collect as much data as possible.
SIM MODE
The below graph is from a free ride on Zwift. Overall power numbers were very close. The KICKR responded to changes in terrain and stayed with my crank-based power meter throughout the ride. A little separation from time which is typical when looking at two different power meters. Also, in this ride, I was recording the KICKR via Bluetooth using Zwift on Apple TV and the Power2Max data using my Wahoo ELEMNT Bolt.
In the below table, you find the full ride averages. The KICKR reported 4 watts lower for the full ride and 3 watts lower normalized power.
| | | |
| --- | --- | --- |
| | Power Average | Normalized |
| KICKR | 216 | 230 |
| Power2Max | 220 | 233 |
ERG MODE
One of the first things I advise you to do is to turn ERG mode smoothing off. This will affect how your chart and power numbers look. When power smoothing is turned on, you will see very smooth lines and your power doesn't drift by much. Overall, the averages should be the same and the trainer will behave the same way, it's just not how powermeters work. I am not exactly sure why Wahoo has power smoothing as the default setting but that's a whole different topic which I talked about here.
Now onto my workout, the below is a 3×10 minutes workout with 3 minutes recoveries. Numbers were spot on with my Power2Max and off by 1 or 2 watts when comparing to my P1 pedals. My P1 pedals dropped signal toward the end of the last interval as indicated by the chart below:
Here is the data from the full ride. As you see, the averages for each interval between my Power2Max and KICKR were between 1 to 2 watts. And the KICKR was only off by 2 to 4 watts when compared to the P1 pedals.
Let's zoom into the 30-seconds warmup sections. Again, the KIKCR and my other two powermeters were all moving together. You just don't see data like this very often and it just makes me happy.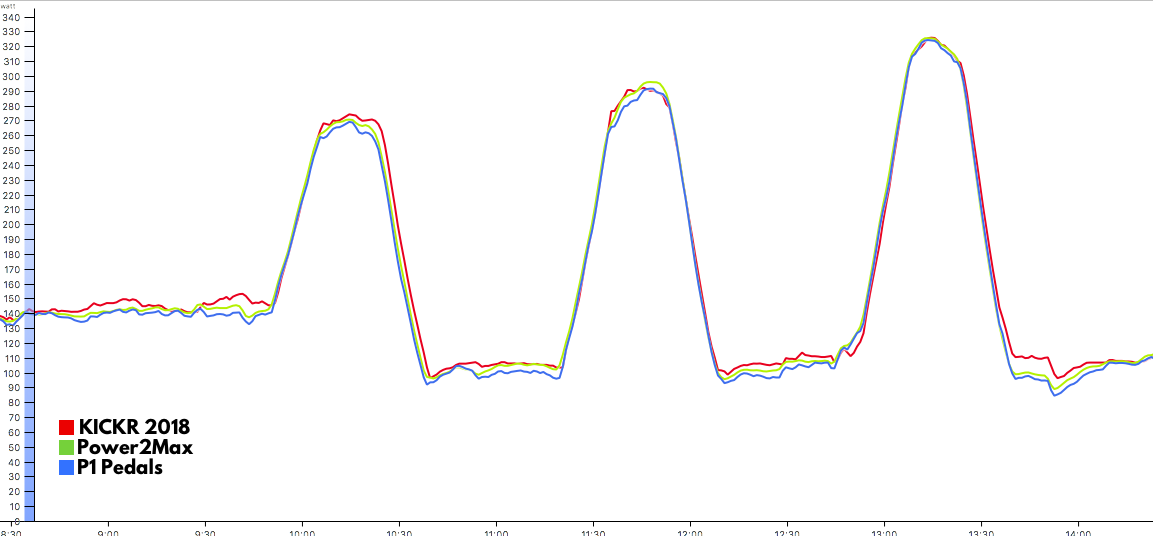 CONSISTENCY
The KICKR requires calibration. It's recommended to calibrate the trainer every 7 to 10 days or if you move the trainer around.
You will start to see some drifting in power if you don't calibrate for a while. But still, after over two weeks of use and no calibration, the KICKR was still within 1-2% from my Power2Max.
POWERMATCH
Wahoo KICKR/CORE/SNAP can pair to your ANT+ power meter and allows it to control the KICKR resistance. In many cases, this simplifies the pairing process. You only need to pair the KICKR rather than pairing two separate devices. Also, this comes in handy in cases where you only use Bluetooth to connect and your power meter only supports ANT+.
Other areas I found it to be useful is when using Apple TV to run Zwift and you prefer to use your powermeter rather than the KICKR as the power source. Apple TV can only pair to two Bluetooth devices and when this is enabled, you can just pair the KICKR as the power source and controllable trainer, freeing up another Bluetooth port for your heart rate monitor or cadence sensor.
Also, when enabled, you don't have to perform spin downs to calibrate your Wahoo KICKR/CORE/SNAP.
HOW TO ENABLE POWERMATCH
You need to use the Wahoo Fitness app to enable this feature and know your power meter ANT+ ID. The ID can be found on the power meter itself or if you pair it to a Garmin device, for example, you should be able to find it in you pair devices menu under more information.
Follow these steps to enable PowerMatch:
Open the Wahoo Fitness app and pair it to your Wahoo KICKR/CORE/SNAP
Under saved sensors, tap on your KICKR/CORE/SNAP
Toggle the "Control w/ANT+ Power Meter"
Under ANT+ Power Device ID, enter your power meter ANT+ ID
NOISE
The noise of the Wahoo KICKR was one of the drawbacks that made me somewhat hesitant to recommend the Wahoo KICKR to anyone looking for a quiet trainer. This is no longer the case and I can say the CORE and KICKR 2018 are now very quiet.
Here is a video comparing the KICKR 2018 to KICKR 2017 and Tacx NEO.
FLYWHEELGATE
Let's talk about the flywheelgate. I've read some reports – and you've probably seen them – from some users on social media about a clunking noise from the flywheel after a few weeks of use. I wanted to see if I can reproduce the same issue and that's why I held on to publish this review for so long.
I have been using my own KICKR and the demo model that Wahoo sent me for many weeks now and tried to put some stress on them to see if I can reproduce the same issue but fortunately or unfortunately depending on how you look at it, I wasn't able to. It would've made for a more interesting review for sure.
I also reached out to Wahoo and they told me this is a limited issue affecting a limited number of trainers. They are aware of it and customer service are handling these issues as they pop up. So, the chance yours will develop a clunking noise is probably slim but if you are one of the unlucky ones, reach out to Wahoo customer service and they should take care of it
FINAL THOUGHTS
The KICKR has been leading the smart trainer market and I don't see them slowing down any time soon. It's a solid trainer, accurate and quiet. I have no reservation recommending it to anyone.
Wahoo includes a cadence sensor and an 11-speed cassette with the KICKR 2018 and it's usually ready to go out of the box. No assembly required and you don't have to bother installing a cassette. I would like to see Wahoo make cadence measurement built into the trainer rather than a separate cadence sensor. It makes pairing to Zwift or Full Gaz on Apple TV much easier and I expect to see more companies release apps on the Apple TV in the next few years.
Wahoo also has their own iOS and Android app which you can use to completely control the trainer for no extra cost. This is important to mention since companies like Zwift, TrainerRoad, The Sufferfest are starting to raise their monthly membership fees. You can also control Wahoo trainers with a bike computer like the Wahoo ELEMNT, Bolt, or Garmin Edge bike computers.
It's also worth considering the Wahoo KICKR CORE for $900. I've talked about the KICKR vs CORE in more details in my Wahoo KICKR CORE review.
WHERE TO BUY
You can purchase a Wahoo KICKR directly from Wahoo Fitness website. Also, make sure you check our Price Tracker for the latest prices and discounts on the KICKR and other trainers.
Thanks for reading!
Frame & Design

Ease Of Setup

Smart Connections & Compatibility

Accuracy

Responsiveness

Noise Level

Road Feel