Tacx Flux had a bit of a rough start. Many were anxious about this direct drive trainer because of its lower price. However, the company initially produced a number (800 units according to Tacx) of faulty units and quickly shipped to market. That resulted in a number of defective units in the hands of customers and I was one of them. However, the company was able to resolve the issue and shipped me another unit to test.
I have been using this unit for about two months now. I probably put more miles on this Flux than any other trainer beside my primary trainers that I own and ride when I don't have a trainer to test. I put it through many hours of heavy riding, sprinting, climbing, racing, etc. I wanted to make sure the unit can handle the demand of indoor training before I can recommend it to anyone. The trainer took all the beating I put it through plus some and performed just as you would expect.
QUICK FLUX HIGHLIGHTS
PRICE: The Flux retails for $899. At this price, the Flux falls into the same category as the Elite Direto. That's about $300 cheaper than other direct drive trainers on the market such as the Wahoo KICKR.
DESIGN: The Flux is made of hard plastic. Legs are open for stability but you can't fold them for storage. It can be hard to carry around if you plan on taking it out for some group trainer rides or travel. The dimension of the Flux is  670×650mm (26.4×25.6in) and it weighs in around 16kg (35.3lbs).
BIKE COMPATIBILITY: The Flux is compatible with most road and triathlon bikes with 130mm, MTB 135mm. Adapters for other widths are available. A bike with a long cage derailleur won't fit the FLUX as the maximum distance between the center of the cassette and the top of the FLUX's leg is 200mm. When using a long cage derailleur in the highest gear it'll hit the leg.
CASSETTE COMPATIBILITY: Flux is compatible with various Shimano, SRAM 9 splines cassettes, and Campagnolo 4 splines cassettes.
CONNECTIONS: The Flux is ANT+ FE-C and Smart Bluetooth compatible. It will work with most indoor training apps such as Zwift, TrainerRoad, Kinomap, The Sufferfest, etc.
NOISE LEVEL: The Flux is a fairly quiet trainer at various speeds and resistance. I didn't notice any vibration or loud humming noise to worry about. Your family or neighbors won't be complaining about your strange training hours.
ROAD FEEL: The Flux combines direct drive technology with an electro brake with 8 permanent ferrite magnets & 8 electromagnets. It's equipped with a 7kg flywheel with a 22.8kg flywheel effect. I will discuss this more in the accuracy test section below.
ACCURACY: The Flux supports a maximum of 1500 watts, 10% slope and <3% accuracy. I dig deeper into accuracy below.
WHAT'S IN THE BOX
The trainer comes in a heavy box unassembled. You will need to attached the legs to the body of the trainer using the screws included and install your own cassette. I personally use the Shimano CS-5700 10-speed cassette which you can purchase for about $45. Here is the 11-speed version.
This is everything in the box
You will need to assemble the legs with screws included.
That and install the cassette and here it is fully assembled.
The first thing you want to do after setting up the trainer is checking for firmware update. You can perform firmware updates wirelessly using the Tacx Utility App.
FIRMWARE UPDATE
Download Tacx Utility App from iTunes store or Google Play
Open the Tacx Utility App. Under Devices, you should see Tacx Flux. Click on it to pair.
Go to Update and you should be able to check for the latest firmware and install the update.
Once you do that, you should calibrate the trainer. You can also do that using the Tacx Utility app as well. Before you perform the calibration, ride the trainer for about 10-minutes to warm it up. Then do the following steps:
Make sure the trainer is only paired to the Tacx Utility app and nothing else. To ensure that, you can disconnect the trainer from power and reconnect and pair to the utility app right away before pairing to any other software.
After pairing your Flux, select Calibration from the menu and tap on "Calibrate your trainer"
Follow the on-screen instructions to complete your calibration. It will prompt you to accelerate to 30 km/h. Once you reach that speed, stop pedaling until you get the confirmation message and you are done. Outside of the 10-minute warm-up, the calibration process takes few seconds.
SMART CONNECTIONS & COMPATIBILITY
The Flux is totally interactive and ANT+ FE-C and Smart Bluetooth 4.0 compliant. It can interact with a multitude of apps, software, computers and devices (smartphones and tablets) with iOS, Android, OSX and Windows. It can be managed with the with Tacx Training or Tacx Utility app available for Android, iOS. It works with Zwift, TrainerRoad, Perfpro, The Sufferfest, and many other apps.
The trainer can communicate fine with both Garmin devices or Wahoo Fitness range of bike computers.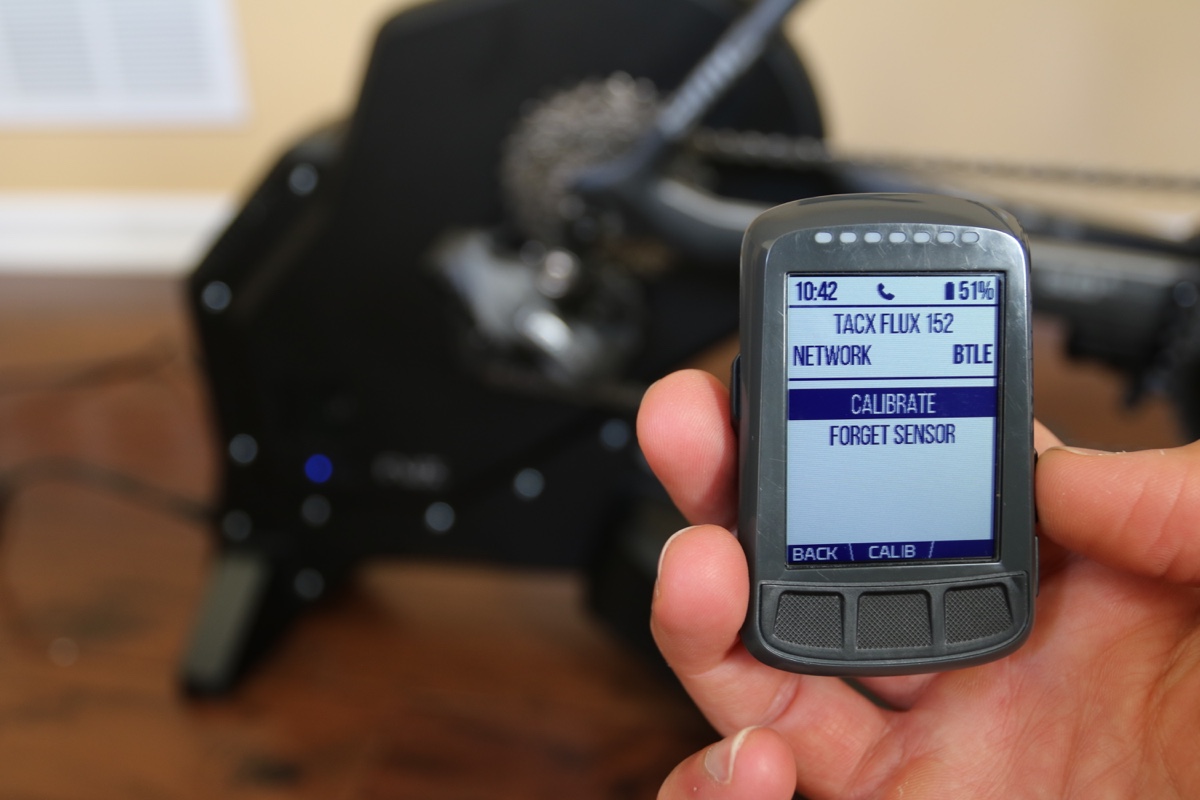 If you pair the Flux to Wahoo ELEMNT or Bolt using Bluetooth you won't be able to control the trainer from the device. You will have to connect using ANT+ on the Wahoo Bolt or ELEMNT.
ROAD FEEL
The Flux has a 7 kg (14.7 lbs) flywheel which is heavier than the KICKR's 5.7 kg flywheel. But here is a perfect example of how bigger isn't always better and in this case, the Flux road feel is good but not as good as the higher end trainers.
THE FLUX POWER ACCURACY
This is the fun part. This is what separates really good trainers from almost good trainers. This is why some trainers cost more than other trainers.
Tacx claims +/- 3% accuracy, 1500 maximum watts, and 10% maximum slope for the Flux. I collected a lot of data and the trainer came very close to my Power2Max cranked based powermeter on my road bike and TT bike.
Here is a workout I did in ERG mode. Flux was within a small range for most of the intervals. These are short 1-min intervals and it's not unusual to see a big difference between power meters. This was just a good workout to put the trainer through some higher intensity workouts and make sure it doesn't break.
| | | | | | |
| --- | --- | --- | --- | --- | --- |
| Interval | Target | Power2Max | Flux | Watt Diff | % Diff |
| 1 min | 325 | 328 | 309 | -19 | -6% |
| 1 min | 325 | 318 | 320 | 2 | 1% |
| 1 min | 325 | 317 | 316 | -1 | 0% |
| 1 min | 325 | 318 | 324 | 6 | 2% |
| 1 min | 325 | 319 | 310 | -9 | -3% |
| Rest | 104 | 105 | 103 | -2 | -2% |
| 1 min | 325 | 311 | 323 | 12 | 4% |
| 1 min | 325 | 320 | 329 | 9 | 3% |
| 1 min | 325 | 319 | 326 | 7 | 2% |
| 1 min | 325 | 313 | 326 | 13 | 4% |
| 1 min | 325 | 315 | 329 | 14 | 4% |
Here is another ride I did on Zwift. The first part of the ride I joined a group workout. Numbers were very close and the Flux followed my powermeter throughout even during the first few sprints we did. However, towards the second half of the workout a little separation happened as you see the Flux was reading a little higher, then during the final 15 minutes during the descent, the Flux started reading a little lower than my powermeter. 
Here is a closer look at a 10-min section of the climb in Zwift. The Flux consistently read higher (all within the 3% range) as I was pushing, but lower as I came to descent sections.
Here is another steady state ride I did in ERG mode using TrainerRoad. Some dropouts using my Garmin but these things happen all the time unfortunately. But if you just ignore the dropout, you can see how the two power meters were basically following each other. Finished the ride averaging 206 watts with the Flux and 204 with my Power2Max.
How about sprints? Here is a workout with a load of 20 seconds long sprints I did between 600 and 700 watts. In general, I don't like using ERG mode when the workout calls for a bunch of quick short sprints. ERG mode takes about 10-20 seconds to catch on and by that time the sprint duration is over. But if you decide to use ERG mode, you might want to give it a little help and change to a harder gear to get the power up faster.
Here is a closer look some sprint intervals. You can see how the flux wasn't catching up to my powermeter and was off by 20 to 60 watts or 4%-11%. This is typical when doing short sprint intervals with mid-range wheel-on trainers. Since the Flux isn't equipped with a real powermeter like other higher end trainers, it can take few seconds for power to catch up during short bursts like this. I don't see this as deal breaker for most but if you are doing a Zwift race for example and trying to break away, the person with the better powermeter or better trainer might win the sprint assuming equal w/kg.
ERG Mode:
The trainer worked well in ERG mode. The following table is from a structured workout I did on TrainerRoad with Powermatch turned on – meaning power is measured from my powermeter and the trainer resistance adjusted accordingly.
With ERG mode, you can select a gear that you like and stay there and resistance will automatically adjust to reach your target power. However, during rest intervals, depending on the gear you select, you might have a hard time reaching those low numbers. I personally like using my big ring when in ERG mode but I couldn't reach my floor power during rest intervals below 150 watts. So had to switch to using my small ring for most of my workouts. But as you see in the table below, the numbers were spot on.
| | | | | | |
| --- | --- | --- | --- | --- | --- |
| Interval | Target | Power2Max | Flux | Watt Diff | % Diff |
| 3 min | 182 | 181 | 185 | 4 | 2% |
| 2 min | 208 | 206 | 210 | 4 | 2% |
| 12 min | 240 | 239 | 245 | 6 | 3% |
| 12 min | 240 | 240 | 245 | 5 | 2% |
| 12 min | 240 | 239 | 246 | 7 | 3% |
Now the averages you see in the top table is what matters when in ERG mode. The whole idea of ERG mode is to keep you as close to your target watts as possible. But this is really hard to do since the trainer has to react to changes in your cadence. So if you are starring at your power numbers during the interval, you will see a lot of fluctuation. Some trainers react better than other trainers. In most cases, you will not see a smooth line like some people expect unless they fake the numbers by really smoothing the power numbers. Some software or trainers do that for you already.
Here is a scatter dot chart. The dark red is the Flux reported power and the green is my powermeter.
And here is the same graph but after connecting all the dots together. Also no smoothing done here. The Flux did a much better job smoothing the line that my crank based powermeter. Again, this is because the Flux estimates the power rather than measuring it at the source like with my powermeter.
But how well did it do keeping me within my range? The target for this interval was 240 watts for 12 minutes. Power went as low as 220 and as high as 267. But again, this is normal as you move around the saddle and change your cadence. This is just how real life riding is and you can learn to help ERG mode but smoothing out your cadence and pedal stroke and that range will get smaller.
WATTAGE FLOOR:
You might find it difficult with the Flux to reach your wattage floor especially when in ERG mode. Here is a graph (source: TACX) explaining the lower end of watts the Flux can produce.
In this example, a 39 tooth front chainring and a 19 tooth rear cassette was used to help demonstrate what the Flux can produce.
For example, at a cadence of 75 you have an output of 100 Watt. If you want to go lower for this gear setting, you need to change gears (go lighter to 21 tooth, up to 28 tooth). Alternatively, you will be required to reduce your cadence to ride lower than 100 Watts. The rest of the BLUE zone is the available breaking power of the FLUX. With 75 RPM the FLUX can brake up to 400 Watt in the 39 – 19 setting. So, in this zone you can ride a wide variety of the training sessions.
The rest of the BLUE zone is the available breaking power of the FLUX. With 75 RPM the FLUX can brake up to 400 Watt in the 39 – 19 setting. So, in this zone you can ride a wide variety of the training sessions.
Using different gear settings will also change your lowest starting point, but this will also change your higher breaking zone. This way you can determine what the best gear setting should be for your training.
CADENCE
The Flux does provide cadence data out of the box so no need to purchase a sperate cadence sensor. The Flux estimates cadence rather than measuring it directly from the source. You will see some spikes here and there but overall it was very good. As you see in the below chart, it matched my cadence sensor throughout the ride.
However, during another ride, the trainer was a little off measuring my cadence as you see in the below chart.
NOISE
The trainer doesn't really make a lot of noise. You would probably hear more noise from a fan or your chain. It's fairly quiet and didn't notice much vibration. Once you are up at a higher speed, you might hear a fan like noise. That's the cooling fan inside the trainer itself. Other than that, the trainer is fairly quiet and I would recommend it to anyone looking for a quiet trainer.
I would put the Flux at a 4 based on my below scale.

Also, here is a short video demonstrating the noise from the Flux
FINAL THOUGHTS
The Flux was the most anticipated trainer in 2016. Unfortunately, Tacx initial production issues put a damper on the Flux. This is by far the longest time I spent testing one trainer. I put it through sprints, Vo2 max workouts, tempo, sweetspots, and numerous climbs on Zwift.
The trainer performed very well and was consistent on all my tests. Power accuracy consistently matched Tacx's 3% accuracy claims and even better.
If you are looking for a smart bike trainer that is accurate, quiet, and don't want to spend over $1000, then this trainer might be perfect for you.
However, if space is an issue, or you want something to travel or take to group spin classes, then this trainer might not be a good fit. It's 35 lbs weight and lack of foldable legs, can be an issue for some and it's something to consider if these things are important to you.
WHERE TO BUY
wpDataTable with provided ID not found!
Our Rating
Frame & Design -

8/10

Ease Of Setup -

7/10

Smart Connections & Compatibility -

10/10

Accuracy -

8/10

Responsiveness -

7/10

Noise Level -

8/10

Road Feel -

6/10
With that, I hope you found this review helpful. Please feel free to ask any question in the comments below. Thanks for reading.
COMPARISON CHART
wpDataTable with provided ID not found!