The RAMPA is one of Elite's latest wheel-on smart electronic home trainer that uses a double communication protocol (ANT+ FE-C and Bluetooth Smart) to easily connect with iOS or Android smartphones and tablets and compatible with a variety of indoor cycling training applications such as Zwift and TrainerRoad.
Elite sent me the trainer to test and I had a chance to spend time putting some good training hours to get ready for this triathlon season.
Before we go deep into the review, let's first talk about the pros and cons of the RAMPA:
PROS
ANT+ FE-C and Smart Bluetooth compatible.
Compatible with wheel sizes 24" to 29".
Lightweight and easy to move around.
Up to 10% slope simulation.
Not very noisy.
CONS
Accuracy +/-10%.
Smaller flywheel.
Single transmission, either ANT+ FE-C or Bluetooth.
IN THE BOX
Just like most wheel-on trainers, the RAMPA comes unassembled. Putting it together is simple and should take you about 15-20 minutes
Included with the RAMPA:
Trainer + Resistance unit
Power supply
Skewer
ANT+ Key
One thing you need to pay attention to when assembling the resistance unit is there are two pairs of holes in the back of the unit. For wheels <26″ you need to use the front pair of holes. For wheels >26″ like in most road bikes, use the back set of holes like you see in the photo below:
Also, Elite included this little ground wire to prevent build up of static electricity. It's optional
Once everything is setup, the unit will look like this:
CALIBRATING THE TRAINER
The calibration is done using the Elite My E-Training app which is available for iOS and Android smartphones and tablets.
There are two different levels of the calibration process and the one you use depends on your desired level of accuracy.
The advanced calibration requires your own power meter to take 3 wattage readings at prescribed resistance levels and then write the values to the unit. The Elite My E-Training app will do this for you automatically. All you need is your power meter paired to your phone or tablet and your Elite RAMPA paired as to the Elite My E-Training app.
Once everything is paired, then you will go through the calibration process. Go To Parameters > Advanced Configuration. If you have a power meter, you will need to make sure your power meter is paired as well. To pair your power meter, under Advanced Configuration, click on Power Sensor to configure your power meter.
Once your power meter is paired, click on Calibration Wizard and follow the procedure.
You will need to pedal for 10 minutes, then the app will adjust resistance and fill out the values for P1, P2, and P3 for you.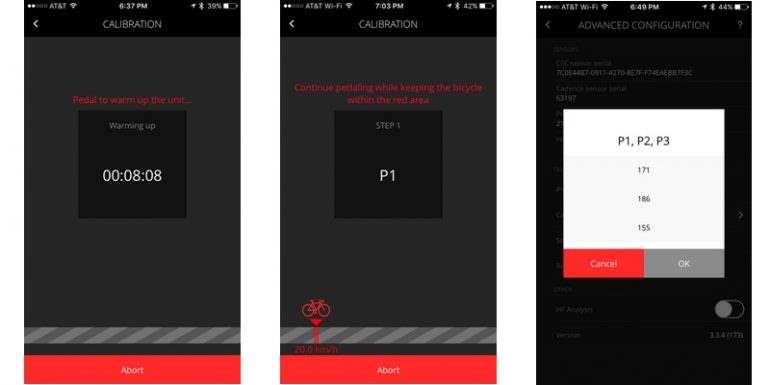 If you don't have a power meter, then you don't need to go through the calibration process and you can just use the default P1, P2, P3 values.  click on
After calibration, if you want to adjust power reading from your trainer to closely match your power meter, click on P1, p2, P3 and modify the value of P1 and P2 only as follow:
If the resistance is too high in respect to the power sent by the trainer, increase P1 and P2 by 20 points each.
If the resistance is too low in respect to the power sent by the trainer, decrease P1 and P2 by 20 points each.
After the modifications you need to check the result and if necessary repeat the operation until you find the correct combination (from second modification always start from the last value inserted).
When clicking on P1, P2, P3 the app always show you the default parameters so if you want to use the default parameters you can start from the ones proposed by the app.
ELITE RAMPA IN ACTION
RAMPA is Elite's latest generation smart trainers that uses a double communication protocol system (ANT+TM FE-C and Bluetooth Smart) to easily connect with iOS or Android smartphones and tablets via the Elite My E-Training app or third party software such as Zwift, TrainerRoad, Kinomap, etc.
Pairing the trainer was very simple. You can either use ANT+ or Bluetooth and will work fine. One thing I noticed, once the trainer is paired with any device, you can't pair it to a different device. For example, if you want to pair the trainer to Zwift via Bluetooth, and also pair it to your Garmin Edge computer via ANT+, you won't be able to do that. It will either pair to Zwift, or Garmin but not both regardless of which communication protocol you use.
I have used the trainer for the past few months with TrainerRoad and Zwift. With Zwift, the trainer performed well responding to terrain changes. For climbs, the trainer can support up to 10% slope which is plenty for most but will not experience some of the tougher climbs on Zwift that can reach up to 17%.
With sprints and harder climbs pushing high watts, I didn't experience any tire slippage. According to Elite: "The red Elastogel roller (the hometrainer/tire contact point)) features an Elite-developed polyurethane mix, tested by Uni Padova labs, that reduces tire noise by 50% and roller wear by 20%. " I was also using trainer specific tire.
You do need a riser block with the trainer and Elite makes a nice one that you can easily adjust to five different levels if you want to simulate climbs. Or you can just use the old phone books if you still have any!
ROAD FEEL
At this price range, most wheel-on trainers will give you a very good feel. The RAMPA's flywheel weight 2.5 kg or 5.5lbs. That's about the same size as the CycleOps Magnus and about 5lbs lighter than Wahoo KICKR Snap. Road feel felt good but not as good as some of the other trainers with the heavier flywheel.
NOISE TEST
Talking about the noise level, I didn't think the trainer was that noisy. I would put it in the quieter side of wheel-on trainers. Most of the noise you hear is coming from the rear tire contact with the roller.
Here is a noise test video you can listen to:
POWER TEST
After performing the calibration with my crank based power meter, I did few rides on Zwift and the trainer overall performed ok in comparison to other wheel-on trainers in its price range.
Here is a chart of free ride on Zwift. You can see how the RAMPA was consistently higher than my power meter by about 9% and 13%.
These are the numbers from the full ride
| | | | |
| --- | --- | --- | --- |
| | RAMPA | Power2Max | % Diff |
| Avg | 198 | 181 | 9% |
| NP | 217 | 200 | 9% |
Here is another ride from interval session I did. You can see some power drops during the session. I wasn't sure if this was caused by the trainer itself or some other interference. However, I don't see these drop outs with my power meter as you see in the graph below:
| | | | |
| --- | --- | --- | --- |
| | RAMPA | Power2Max | % Diff |
| Int 1 (15min) | 283 | 251 | 13% |
| Int 2 (15min) | 274 | 243 | 13% |
| Int 3 (15min) | 277 | 247 | 12% |
As you see from the above numbers, the trainer was consistently 9-13% higher than my power meter. You can probably get it closer to your power meter number if you adjust the P1, P2 values like I mention in the calibration process above.
FINAL THOUGHTS
The Elite RAMPA is a good light weight wheel-on trainer. It weight just under 24lbs. If you are looking for a smart trainer that you can carry around or travel with, then this trainer might be what you are looking for. With its smaller flywheel, I thought the road feel was ok. I think the calibration process can be improved as well as Elite's My E-Training app.
WHERE TO BUY
The Elite RAMPA is price around $649. That's about $50 more than the SNAP and Magnus. However, you can probably find a good deal on it at Nashbar. I have seen it as low as $454 plus shipping.
$517.85
$599.99
in stock
4 new from $517.85
Amazon
Free shipping
Last updated on October 18, 2019 2:38 am
| Features | Wahoo SNAP | CycleOps Magnus | Elite Rampa |
| --- | --- | --- | --- |
| ATTACHEMENT TYPE | Wheel-On | Wheel-On | Wheel-On |
| PRICE | $599.99 | $599.99 | $649 |
| ANT+ FE-C | Yes | Yes | Yes |
| BLUETOOTH SMART | Yes | Yes | Yes |
| 3RD PARTY APPS SUPPORT | Yes | Yes | Yes |
| MAX WATTS | 1500 watts | 1500 watts | 900 watts |
| MAX INCLINE | 12% | 15% | 8% |
| SIMULATE DESCENTS | No | No | No |
| MAX DESCENTS | - | - | - |
| ROAD SURFACE SIMULATION | No | No | No |
| ACCURACY LEVEL | +/- 3% | +/- 5% | +/- 10% |
| CALIBRATION REQUIRED | Yes | Yes | Yes |
| TRANSMIT POWER | Yes | Yes | Yes |
| TRANSMIT SPEED | Yes | Yes | Yes |
| TRANSMIT CADENSE | No | No | Yes |
| 3RD PARTY POWER METER | No | No | In Calibration |
| POWER CORD REQUIRED | Yes | Yes | Yes |
| FLYWHEEL WEIGHT | 10.5 lbs | 2.6 lbs | 5.5 lbs |
| RESISTANCE TYPE | Electromagnetic | Electromagnetic | Electromagnetic |
| WIRELESS SOFTWARE UPDATES | Yes | Yes | Yes |
| WARRANTY | 1 yr limited | Lifetime on frame 1-year on electronics | 1 year |
Frame & Design

Ease Of Setup

Smart Connections & Compatibility

Accuracy

Responsiveness

Noise Level

Road Feel