CONS
Accuracy Issues
Legs don't fold
Tacx updated the Flux with the Flux S and Flux 2 last September with better internals and redesigned to improve power measurement, support for long cage derailleurs, and made them quieter and supposedly more accurate than the original Flux.
Tacx sent me the Flux 2 for this review and I have been using it for a short period of time. In this review, I will walk you through the Flux 2 and my findings and issues I ran into during the time I've been using it and hope to help you with your purchase decision.
$899.99
in stock
3 new from $899.99
as of June 5, 2023 7:29 pm
FLUX 2 SPECS
PRICE: $899
MAXIMUM POWER: 2,000 watts
MAXIMUM SLOPE: 16%
FLYWHEEL: 7.6 kg (16.8 lbs)
ACCURACY: <+/-2.5% per Tacx
BIKE COMPATIBILITY: 130 mm, MTB 135 mm. Adapters for other widths available.
CASSETTE COMPATIBILITY: Race 130 mm, MTB 135 mm, 142 mm & 148 mm.x12mm QR Adapter for 135 x 10 mm available.
CONNECTIONS: ANT+ FE-C, Smart Bluetooth, and FTMS.
CALIBRATION REQUIRED: Yes.
METRICS: Transmits power, speed, and cadence.
APP COMPATIBILITY: I tested the Flux 2 with Zwift and TrainerRoad in Smart Bluetooth and ANT+ FEC.
VIDEO REVIEW
TACX FLUX S vs TACX FLUX 2
Tacx announced the Flux 2, then introduced a slighly modified and updated version of the original Flux and called it Flux S. You can read my review of the Flux S here. The Flux 2 offers a little more power, heavier flywheel, better advertised accuracy, more slope support, and Tacx is including the 142mm & 148mm adapters with the Flux 2. The Flux 2 also costs $150 more than the Flux S
Here is the a spec table between the Flux S and Flux 2:
ASSEMBLY & CALIBRATION
When you take the Flux 2 out of the box, you will find the trainer, power cord, manuals, and all the tools you need to put the legs together. The legs are simple to install and took me a few minutes to do.
Also, you need to provide your own cassette and install it. The Flux is compatible with 8-11 speed Shimano and SRAM. Campagnolo is compatible but you need to get a separate adapter.
You can purchase an 11-speed Shimano 105 cassette for about $45 but if you are still on a 10-speed cassette then you can save a few dollars and get a 10-speed Shimano 105 cassette for about $50. If you need a cassette plier, the Feedback Sports cassette plier and Cassette Wrench are one of my favorite and easy to use.
$899.99
in stock
3 new from $899.99
as of June 5, 2023 7:29 pm
$71.37
$106.95
in stock
35 new from $69.99
4 used from $60.00
as of June 5, 2023 7:29 pm
$50.00
in stock
6 new from $50.00
as of June 5, 2023 7:29 pm
$37.26
$50.00
in stock
7 new from $37.26
as of June 5, 2023 7:29 pm
Last updated on June 5, 2023 7:29 pm
Once assembled, you should pair it to the Tacx utility app available for iOS and Android devices to check to see if there is a new firmware available. The firmware can be updated wirelessly using the Tacx utility app and you will be prompted to upgrade if there is a new version.
Once you ensure you have the latest firmware, you need to run the calibration to ensure the brake is set properly. The calibration can be done using the Tacx Utility app as well. Before you perform calibration, warm up the trainer for about 10 minutes. Once you perform the initial calibration, you should be all set for a while. With direct drive trainers, you need to run the calibration once every 7 to 10 days or if you move the trainer around.
RIDE FEEL
The Flux 2 has a 7.6 kg (16.8 lbs) flywheel which is heavier than Flux S and other high-end trainers. But here is a perfect example of how bigger isn't always better and looking at the number alone doesn't give you a good indication of how the trainer feels. The Flux 2 road feel is good when comparing it to other mid-range trainers in its class but not as good as high-end trainers like the NEO for example. I also found the Flux 2 to offer better inertia than Flux S or original Flux.
The Flux is totally interactive and ANT+ FE-C, and Smart Bluetooth compliant. It can interact with a multitude of apps, software, computers and devices (smartphones and tablets) with iOS, Android, OSX and Windows. It can be managed with Tacx Training or Tacx Utility app.
It paired fine with Zwift and TrainerRoad in both ANT+ and Bluetooth. I also tested it with The Sufferfest on iOS and it connected fine and the app was able to control the trainer in ERG mode.
NOISE
The Flux 2 is very quiet. You can listen to the noise in my YouTube video review, I ran the Flux 2 at 20mph and then at 30mph. The noise you hear at 20mph is what you will hear most of the time. When in ERG mode, the flywheel speed will hardly go over 20mph and it will most likely be lower than that as long as you remain in the small front chainring.
Even in sim mode, the flywheel itself will hardly spin that fast but as I do with all my noise demo videos, I like to run the trainer at the two different speeds just so you hear the noise level at both extremes.
ACCURACY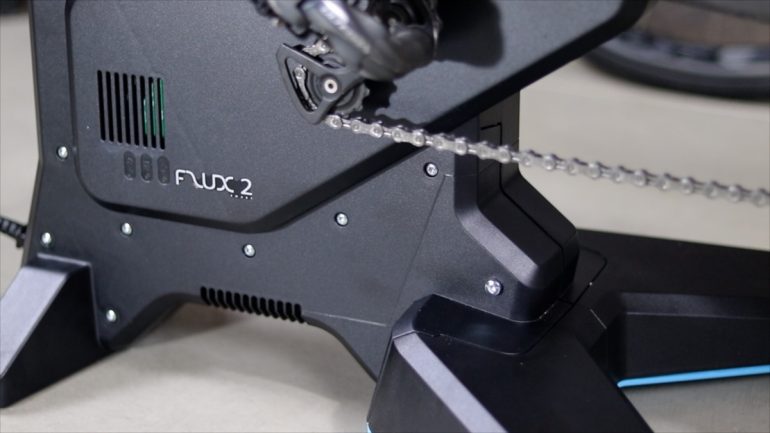 Tacx claims +/- 2.5% accuracy, 2000 maximum watts, and 16% maximum slope for the Flux 2.
I've used Tacx trainers for many years and this is the fourth Flux unit I've had throughout the years. I've always had good accuracy results with the Flux. However, this unit was a little different.
As I was going thoroughly my first ERG mode workout, I found it extremely difficult to hold watts greater than 200. I quickly realized the Flux 2 was displaying power a lot less than both powermeters I have on my bike. We are talking about 17% to 20% lower.
As you see in the chart below, the third interval target was 420 watts but I was realistically pushing over 500 watts according to my Assioma pedal based powermeter.
That first test was done in the small chainring. I decided to switch to the big chainring and suddenly everything looked fine or at least ok until the last two intervals as you see in this chart below:
Everything looked ok and between 0%-3% until the 4th and 5th intervals when watts were above 400 the Flux was off by about -8% to -17%.
I reached out to Tacx on this issue and I was told that they are aware of this issue with the Flux 2. At the moment, they are "checking what causes this problem, a bit more difficult because it's not with every trainer." according to Tacx."
Hopefully, it is just a matter of a firmware update. I've seen stuff like this in the past with other trainers, most recently the KICKR CORE and it was fixed with a firmware update.
WHAT ABOUT YOUR FLUX 2?
So the question is, if you already have the Flux 2 how can you tell if yours have this problem?
If you have a power meter, then you should be able to tell by simply comparing the two. However, if you don't have one, you might be able to go by perceived exertion or heart rate to see if it is significantly harder to hold the same amount of watts in the small chainring as you do in the big chainring in the front.
WATTAGE FLOOR
Wattage floor generally refers to your recovery watts and how low the trainer can get you at a certain gearing selection. Some trainers have mechanical limits and can't spin that flywheel fast enough to get you to your lower target watts. You might experience this with some mid-range trainers and even rollers.
For example, if your recovery watts are around or less than 100 watts, you might find yourself floating above that when in ERG mode and not able to hit that low target without switching to a lower gear.
With the Flux 2, when I was in the big chainring, the lowest I was able to get it to without cross-chaining was around 140 watts. When going down to the low ring in the front and mid cog in the rear, I was able to get it down to about 90 watts with around 85rpm cadence.
CADENCE
The Flux 2 does provide cadence data out of the box so no need to purchase a sperate cadence sensor. The Flux estimates cadence rather than measuring it directly from the source. You will see some spikes here and there but overall I thought it was good. As you see in the below chart, it almost matched my cadence sensor throughout but in some occasions, it over/under estimated my cadence.
For me, this isn't that big of a deal. I do monitor my cadence occasionally but if it's off by 2 or 3 rpm, I don't fret over it. But if you are looking for accurate cadence measurement, then a dedicated cadence sensor like the one from Garmin is your best option.
FINAL THOUGHTS
Aside from the power accuracy issue, at $899, the Flux 2 is a very good mid-level direct drive trainer. If you are looking to get into indoor training but don't want to spend the money on a higher end trainer, the Flux 2 is a good option. It's fully compatible with Zwift, Trainer Road, or any other indoor cycling application that supports ANT+ FE-C, FTMS, or Smart Bluetooth.
The Flux 2 legs don't fold, so if space is an issue or you plan on traveling with your trainer, this can make it a little hard to do unless you take it apart.
WHERE TO BUY
The Flux 2 retails for $899 and is available to buy today at major online retailers and local bike shops. You can find it on Amazon, REI, and CleverTraining. Make sure to also check out our price tracker for the latest deals on the Flux 2.

Tacx Flux 2 Smart Trainer Black, One Size, Tacx
Price History
Statistics
| | | |
| --- | --- | --- |
| Current Price | $899.99 | June 5, 2023 |
| Highest Price | $899.99 | December 12, 2022 |
| Lowest Price | $719.99 | November 11, 2022 |
Since November 11, 2022
Last price changes
| | |
| --- | --- |
| $899.99 | May 27, 2023 |
| $719.99 | May 26, 2023 |
| $899.99 | May 25, 2023 |
| $719.99 | May 21, 2023 |
| $899.99 | May 7, 2023 |