The Sufferfest, the creator of cycling training videos consisting of real race footage and known for its punishing workouts, has partnered with APEX coaching and released 35 different workout plans geared toward cyclists and triathletes for free and exclusively available on TrainingPeaks.
The Sufferfest training plans were developed in partnership with elite coaches Neal Henderson and Mac Cassin at APEX Coaching. They include a mix of indoor Sufferfest sessions, outside rides – which also can be done indoors –  and targeted drills. You can even add their Yoga for Cyclists programme and 10-week Mental Training Programme to any plan.
There are plans to fit riders of all skill levels for both cycling and triathlon (Olympic, Half IM and Full IM). Many of the plans are designed to improve your strengths while addressing the primary weakness identified in your 4DP Profile, with more plans on the way.
To get started, all you need is a free TrainingPeaks account and an active TheSufferfest membership which you can get for $10/month or $99/year. Once you create your TrainingPeaks account,  go to https://www.trainingpeaks.com/the-sufferfest.HTML to view the full library of free Sufferfest / APEX training plans.
Once you click on Buy – don't worry, you won't be charged anything – you will have the option to select a start date. Once you do that, the full plan will be added to your TrainingPeaks calendar:
You can also add the plan from the Training Plans Library available in TrainingPeaks in the Calendar view. You will see all the plans you have purchased there and you can just drag and drop the plan you want to your calendar.
One thing to note here is, these plans expect athletes to have a solid base of about 6-months of consistent training before jumping on and is comfortable training for each discipline. So they aren't a couch to Ironman in 16-weeks type of plans.
I added the Half Ironman plan to test out. The first week of the plan starts with the 4DP Full Frontal fitness test, followed by a swim test, and 5k run test on the third day. Each week has a total of four bike rides, three runs, and three swims. The plan starts with 5 hours of biking, 1h 45m of running and peaks at 6 hours of biking and 3h 50m of running. You will get a recovery week every fourth week.
YOGA and Mental Training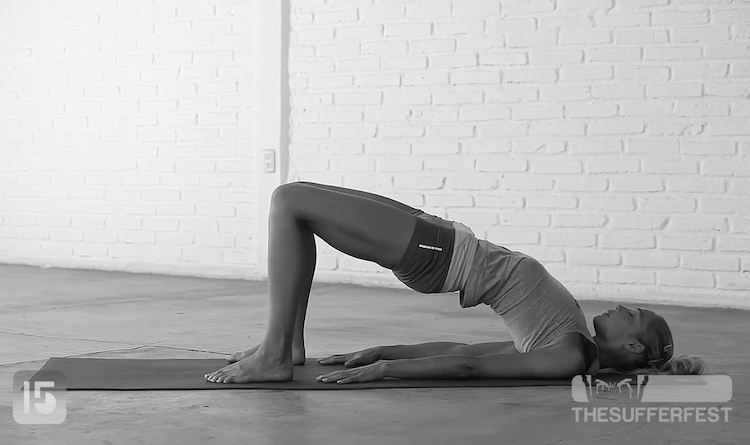 What's nice about The Sufferfest and sets them apart from the competition is their Yoga, and Mental Training programme included with their membership. These programs are also included in these plans and you will see additional details for each programme and how to add them to your calendar view in TrainingPeaks.
Finally, TrainingPeaks is offering subscribers to The Sufferfest a free month of Premium TrainingPeaks. To get your promo code, log in to The Sufferfest app and click on the 'Training Plans' tab. Current Premium TrainingPeaks members, can also take advantage of this offer as well and get an extra month for free. Just go to https://home.trainingpeaks.com/account-manager/athlete-upgrade, and enter the code in the Coupon Code box.