Dedicated indoor bikes are slowly making their way into our homes. Most of us still prefer to use our road bikes and mount them on a direct-drive or wheel-on trainer. However, a complete dedicated bike offers the convenience of never needing to switch bikes, clean, or bother with mounting and dismounting everytime you switch between outside riding and indoor.
Last year, we've seen smart bikes from Tacx  (still in development) and the Atom from WattBikes – currently only available in Europe.
The IC8 bike is a dedicated stationary bike from ICG LifeFitness. It is their most advanced bike made for serious riders and triathletes, as well as businesses and training centers. The IC8 may not offer the same advanced features as the Atom but their WATTRATE© Direct powermeter and their +/-1% accuracy claim along with its adjustability were enough for me to reach out to the company to get more information.
Also, don't you think it looks like Zwift's Tron bike?
QUICK IC8 HIGHLIGHTS
PRICE: $3,299
DESIGN: The bike is 120lbs/54kg heavy. It's fully adjustable for short or taller riders. Comes with pro handlebars for riding in drops, hoods, or aero position. It comes with WATTRATE computer screen to view different workout metrics. The full cover shroud offers full sweat protection.
DIMENSION: L144xW52xH103 cm / 56.7"x20.5"x40.5"
SMART CONNECTIVITY: IC8 supports ANT+ and limited Bluetooth functionality. More on this below.
WATTAGE RANGE: 3,800+ watts at +/- 1%
ACCURACY:  +/-1% claim and tested.
NOISE LEVEL: I found the bike to be quiet. Not completely silent or as quiet as some of the high-end trainers. You can listen to the noise in the video review posted above.
ROAD FEEL: I found the road feel to be very good. Comparable to high-end trainers.
ACCURACY:  +/-1% claim and tested.
CRANKS: 172.5mm (not adjustable)
Q FACTOR: 155MM
POWER SOURCE: Self-powered. The bike has an onboard generator that charges the bike's rechargeable lithium battery to power all electronics.
UNBOXING & FIRMWARE UPDATE
There was really no unboxing. The bike was delivered completely assembled. Two great guys carried the bike all the way to the workout room and set it up. By setting it up, I mean placing it where I wanted in my workout room and made sure the bike works. The console the came with the bike wasn't working so they shipped me a replacement. Installing the console was very simple. Only two screws to remove.
Usually, the bike comes with the latest firmware installed but since I received a replacement, I got to see how the firmware gets updated.
The process is a little different on this bike than other trainers. There is an ICG mobile training app that is compatible with the IC8 but comes with limited features and can not be used to update the bike's firmware. Instead, you need to setup a WiFi hotspot with a network name (SSID) and a password. That information is provided by LifeFitness support. Once the network is configured, you can go to the bike console and enter the setting menu and find "Firmware Update" option under "System".
BIKE FIT
The IC8 is easily adjustable to find the most optimal riding position for shorter and taller riders. The following parts are adjustable:
Seat post: For saddle height adjustment and it's equipped with gas-assist for micro adjustment.
Seat fore aft for seat to handlebar adjustment:
Saddle is removable. It comes with a unisex saddle but you can easily swap it for your own saddle.
Saddle seat angle is also adjustable.
Handlebar: The handlebar is equipped with gas-assist for height micro adjustments.
Aero pads and aero extension are not adjustable or replacable.
Pedals: The bike comes with dual-sided SPD pedals but you can swap them with your own.
Seat fore aft for seat to handlebar adjustment:
Seat angle is also adjustable:
You can adjust the stack height and reach. The handlebar is equipped with gas-assist for height micro adjustments:
Aero pads and aero extension are not adjustable. I found them to be very rigid and can be uncomfortable. I would recommend putting on aero pads for some added comfort. You can probably find ones from CeeGees. The Oval rectangular ones should fit but you will need to get an adhesive velcro which you can find at your local hardware store.
The first thing I did was replace the SPD pedals that came with the bike with my own PowerTap P1 pedals. You can replace the pedals just like you do on a real bike with an allen or a pedal wrench.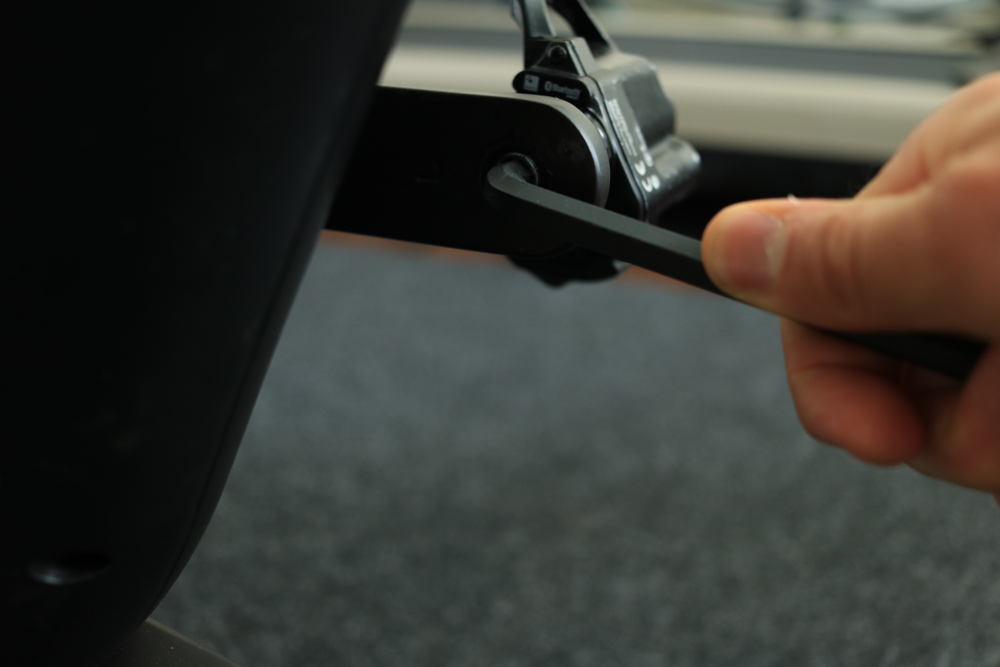 Powertap P1 pedals are on and ready for riding:
ROAD FEEL
The IC8 comes with a Rear, aluminum, evenly-weighted flyweheel. The drivetrain ratio is 1:13.75. This is the ratio of the chainring to the rear sprocket – meaning you get 13.75 flywheel revolution with one complete rotation of the crank. For comparison, a bike with a ratio of 53:12 will give you 4.42 revolution, a 39 x 25T produces a gear ratio of 1.56.
This gives you a lot of momentum and good inertia. I found the road feel to be very good. Just as good as top of the lines direct drive trainers.
SELF POWERED
The bike is self-powered. It has an onboard generator that charges the bike's rechargeable lithium battery to power all electronics. No need to plug it into power outlet which is always a bonus.
NOISE
Overall, the bike was quiet. Not silent but you will hear some noise from the flywheel. Where you place the bike, the type of roo, flooring, walls, and other factors can impact the amount of noise you hear and others hear in your house. To better demonstrate the noise, here is a little video you can watch and hear for yourself.
SMART CONNECTIONS
The IC8 is ANT+ compatible and has some Bluetooth functionalities. It transmits power and cadence data via ANT+ but doesn't transmit any data via Bluetooth. According to LifeFitness, additional Bluetooth functionality is coming via a firmware update. But for now, the only thing you can do with Bluetooth is pairing a heart rate monitor and pairing the ICG training app with the bike.
However, it can be paired to any device that supports ANT+ protocols such as your Garmin Edge bike computer, Wahoo ELEMNT, or Garmin Forerunners watches.
APP COMPATIBILITY
Since the bike transmits data in ANT+ only, then any app that supports pairing in ANT+ should work. Unlike as smart bike trainer, the IC8 bike can be paired only as a powermeter and a speed and cadence sensor. Since the bike can't automatically control resistance, there isn't much that can be done by the app other than receiving data.
Also, if you are on an iOS device, then you will need to get an ANT+ key – but there seem to be some compatibility issues with latest iOS updates – or get an ANT+ to Bluetooth bride that will convert the ANT+ signal to Bluetooth. The Cable device can do that and you can get it for about $60 USD from Amazon.
However, you can pair the bike to the ICG app using Bluetooth. The ICG app provides some workouts and you can build your own. These workouts are heart rate based or perceived exertion.  I personally didn't find much use out of the ICG app as it is very limited in functionality and feels outdated. Plus, there is no way to export a .fit file out of the app for further analysis in Strava, TrainingPeaks or any other training software.
CALIBRATION
The WattRate direct power meter is located at the intermediate transmission and uses photocells to directly measure the torsion (twisting force) of the spindle. The design never requires recalibration and is resistant to external factors such as temperature and humidity.
However, the brake must be calibrated if the displayed level of resistance does not reach 0% or 100% at the end positions. You will see an exclamation mark (!) shown instead of the level as a % on the display. You can also set the offset value by running the Offset measurement from the setting screen (arrow down + lap button) as well.
POWER ACCURACY
To perform a test on this bike, I replaced the SPD dual-sided pedals that came with the bike with my own P1 pedals that I have been recently using along with my Power2Max cranked based powermeter. But since you can't replace the cranks on this bike, then I had to settle for my P1 pedals only. The P1 pedals have been tested against the other two powermeters I have on two different bikes and they are withing +/-1% of each other. I paired the bike with my Garmin Edge 520 and my P1 pedals was paired to my Wahoo Fitness Bolt.
The bike supports up to 3,800 watts. I am not aware of any human that can produce that much power. The 300-degree dial offers 100 clicked increments and displays the resistance level as 0-100 on the WattRate TFT computer.
The below chart shows the data from the IC8 only without any smoothing. Overall, the power was steady and almost matched my P1 pedals exact as you will see in the next chart.
The following chart shows data from my P1 pedals powermeter and the IC8 bike. As you see, both were basically following each other. All within less than 1%.
Here is the section from the sprints and two one-minute intervals. As you see, both were very close. A very small separation on top but we are talking about 1% to 2%. Also, as I was releasing tension and existing each block, the IC8 bike stayed exactly with my P1 pedals without any separation or a sudden drop in power.
POLAR VIEW
The bike has the ability to display in real time how you are applying power through the pedal stroke. You can see that information on the Polar view screen and ride summary screen. Unfortunately, the bike doesn't transmit that data to third-party apps or devices for further analysis. Not that I look at that data often but or used it for my own personal training, but if you do, that option isn't available at least for now.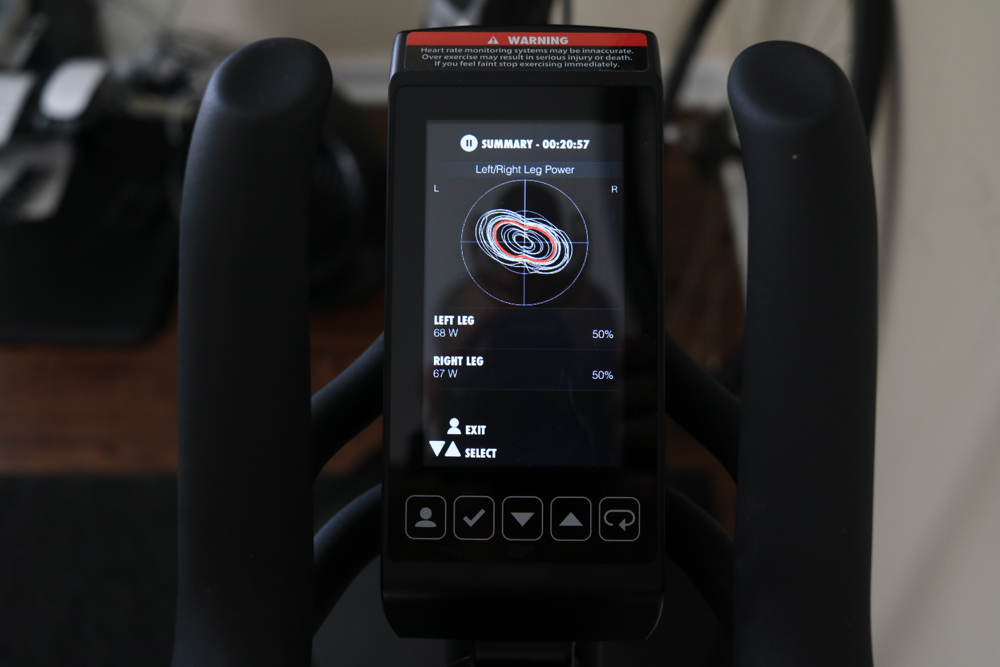 CADENCE
Cadence is one area where most companies seem to neglect. Many wheel-on or direct drive trainers –even the higher end ones – estimate cadence rather than measuring it directly. With the IC8 bike, cadence is measured directly from the crank and as you see in the below chart, cadence data matched almost exactly with my P1 pedals. 
FINAL THOUGHTS
The IC8 bike is LifeFitness' most advanced bike. It's basically a stationary bike with a powermeter. If advanced technology isn't something you care much about and just looking for a stationary bike with a powermeter for your indoor training, this bike might be worth looking into.
Its adjustability and accurate powermeter gives it an edge over other stationary bikes. However, you need to take a closer look at its adjustability and make sure it fits you and you are willing to work with some of the fit and adjustment limitations.
I usually do most of my training on my road bike and race on my triathlon bike so you might get away with some of the aero fit limitations this bike has. However, I usually like to get used to riding my triathlon bike few weeks before an event to get used to riding in aero position – even more if training for a full ironman event.  So depending on your situation and how comfortable you feel riding in aero, this is something to think about and consider before investing in something like the IC8 or any stationary bike for that matter. Even the Wattbike Atom, which is fully smart and offers more adjustability has some fit limitations as well.
WHERE TO BUY
You can purchase the IC8 bike directly from LifeFitness website. You can also search for LifeFintess dealers in your area where you can go and check out the bike and test it out yourself.
Thanks for reading!
Frame & Design

Ease Of Setup

Fit and Adjustability

Smart Connections & Compatibility

Accuracy

Noise Level

Road Feel