Did you know that a number of Garmin watches has a smart trainer control feature? This is a game-changer for your indoor training sessions. With the ability to pair and control your smart trainer, you can use your Garmin watch to download workouts, adjust resistance, and even follow courses – all without the need for expensive subscriptions or additional apps. In this post, I'll show you how to unlock the power of your Garmin watch and take your indoor training to the next level.
First of all, make sure you have the right gear. You'll need a smart bike trainer that is ANT+ FE-C compatible, and a Garmin watch that supports smart trainer control. The good news is that most modern smart trainers from popular brands like Wahoo, Elite, Tacx, and Saris are compatible with Garmin watches. As for the watches themselves, here is a full list of Garmin watches with indoor bike trainer support.
PAIRING YOUR TRAINER TO GARMIN
First things first, you need to pair your smart bike trainer to your watch. Go to the settings on your watch and select "Sensors & Accessories." Choose "Add New" and then select "Search All" Your watch will scan for available trainers and should find your ANT+ compatible trainer. Just like that, you're all paired up and ready to ride!
CHOOSE YOUR RIDING MODE
There are several different riding modes available when using your Garmin watch to control your smart bike trainer:
Free Ride Mode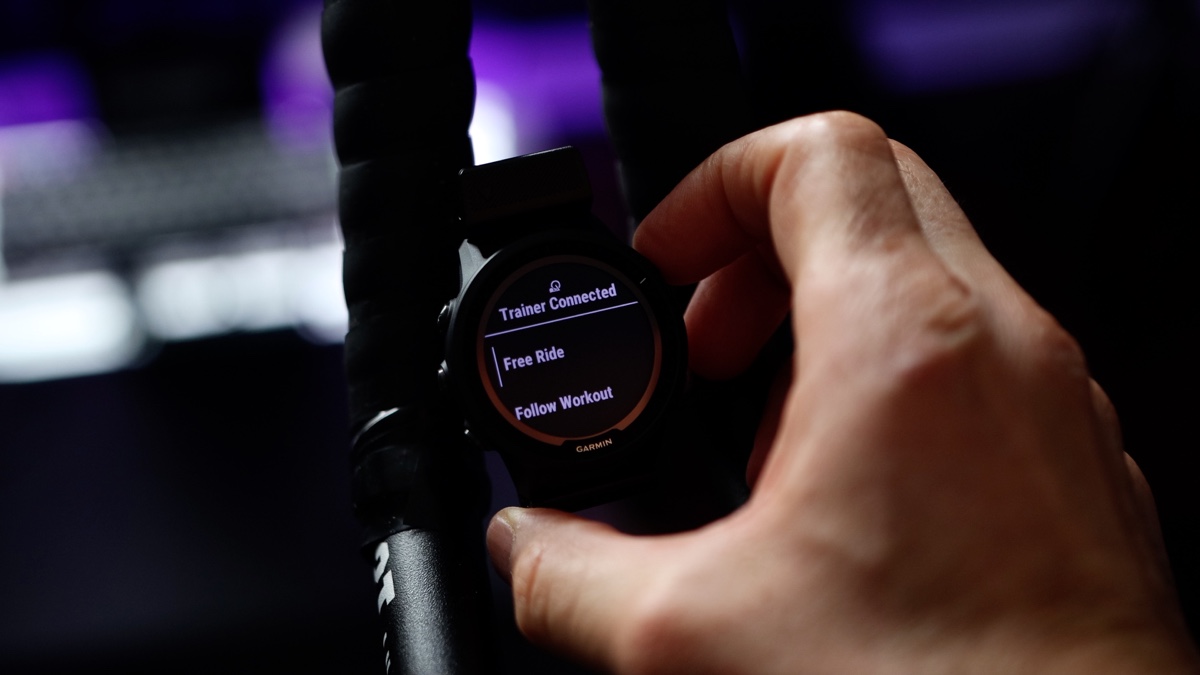 If you just want to hop on your bike and go for a ride without any specific training goals, this is the mode for you. You can ride your trainer and record your ride metrics without controlling your trainer. This is a good option if you're using Zwift or TrainerRoad to control your bike trainer and want to use your watch as a secondary device to record your ride or view additional metrics without interfering with your main app.
Following a Course
If you're feeling a bit more adventurous, you might want to try following a course. This is where you can load a saved course onto your watch and it will automatically adjust the resistance to match the profile of the course. Just like that, you're conquering virtual mountains from your home!
One really cool feature of following a course on your Garmin watch is the Power Guide. Power Guide analyzes each course and prescribes different power 'targets' throughout the course based on course distance, elevation profile, the rider's FTP and other models. The goal of this feature is to help you ride and manage your effort to complete the course.
So, how do you get a course on your Garmin watch? Well, there are multiple options to do that. You can create a route on Garmin Connect or use a previous ride you did and send it to your watch. You can also use Strava to do that, but first, you need to enable Courses permission in your Account Information page in order to take advantage of the integration.
To do that, from the Garmin Connect mobile app, navigate to the More tab, then tap on Settings > Connected Apps > Find Strava > Enable Courses permission.
If it doesn't appear automatically on your watch, from the Garmin Connect mobile app, navigate to the More tab, tap on Training and Planning, and Courses. You should see all your courses here. Tap on the course you want, then tap on the 3 dots on the top corner of the page, and tap on send to device.
Set Power Mode
With this feature, you can set a specific power output, and your watch and smart trainer will do the work so you don't have to worry about cadence or adjusting resistance. Just pedal and hit your target power.
Set Grade Mode
You can set a specific slope (in percent) and your trainer will adjust the resistance to match. It's like saying "I want to climb a 10% hill today, and nothing will stop me!"
Set Resistance Mode: If you want to have more control over your workout, you can manually set the resistance level on your trainer.
Follow a Structured Workout
If you love a good structured workout, you can use the watch to execute a whole structured workout. You can build a workout using Garmin Connect's workout creator or sync your workout of the day from a platform like TrainingPeaks. Once you select "Bike Indoor" under Smart Trainer Option, use the "Follow Workout" control option to select from the daily workout suggestions.
And that's it! Using your Garmin watch with an indoor smart bike trainer is a great option to save on subscription costs or use it as a secondary device to record your ride. So, if you have the right gear, give it a try and let us know what you think!