The Mac Mini M2 is Apple's latest entry-level desktop computer that starts at just $599. This little device packs quite a punch, and it's more than capable of handling most general computing tasks, including intense video and photo editing tasks.
But, how does the Mac Mini M2 handle running Zwift?
The Mac Mini is a sleek and compact device that has a solid selection of ports, including ethernet, HDMI 2.1, headphones, two USB-A ports, and either two or four Thunderbolt 4 ports depending on the version you have. The Thunderbolts are great for fast data transfer, but you can also use them to charge external devices or in my case external displays. It supports multiple display options with one display with up to 6K resolution at 60Hz over Thunderbolt and one display with up to 5K resolution at 60Hz over Thunderbolt or 4K resolution at 60Hz over HDMI.
$597.93
in stock
3 new from $597.93
7 used from $704.28
as of September 21, 2023 6:29 am
Last updated on September 21, 2023 6:29 am
METAL SUPPORT
Recently, Zwift made changes for Apple devices. Over the past few months, Zwift has been working on phasing in Metal support which is a low-level graphic API across all Apple platforms. This means that all iOS, tvOS, and macOS devices that are officially supported are now running on Metal instead of OpenGL. Essentially Metal allows developers to directly access the graphics processing unit (or GPU) to really maximize performance and efficiency for graphics-heavy tasks. So, thanks to Metal, you should notice a smoother and more efficient experience when using Zwift on your Apple device.
GRAPHICS IN ZWIFT
When it comes to graphics in Zwift, there are two main factors that determine how good your game will look and run. The first one is the graphic resolution, which you can adjust in the Zwift settings menu. This controls the number of pixels on the screen and determines how clear and detailed the images will be. Zwift offers low, medium, high, ultra, and 4k resolution. For the Mac Mini M2, the maximum resolution assigned by Zwift as of today is 1080p, which is full high definition.
The second factor that affects game performance is the graphic profile, which determines the level of realism and detail you'll see in the game, such as shadows, sun rays, water reflections, wildlife, etc. Zwift automatically sets this based on your device's graphic processing power. For devices with integrated GPUs like Apple TV and other iOS devices, the graphic profile is usually set to basic or medium profile. I ran some tests on the Mac Mini M2 and analyzed the log files using the Zwiftalizer tool. Unfortunately, Zwift assigned a medium-level graphic profile to the M2, which is not what I was hoping for. But despite this, you will still see some details, such as rider shadows, which are generally reserved for higher profiles.
FRAME RATE
When it comes to frame rate, Zwift has the frame rate locked at a consistent 60 frames per second. This means that the game is running smoothly without any noticeable lag or stuttering.
MAC MINI M2 VS PC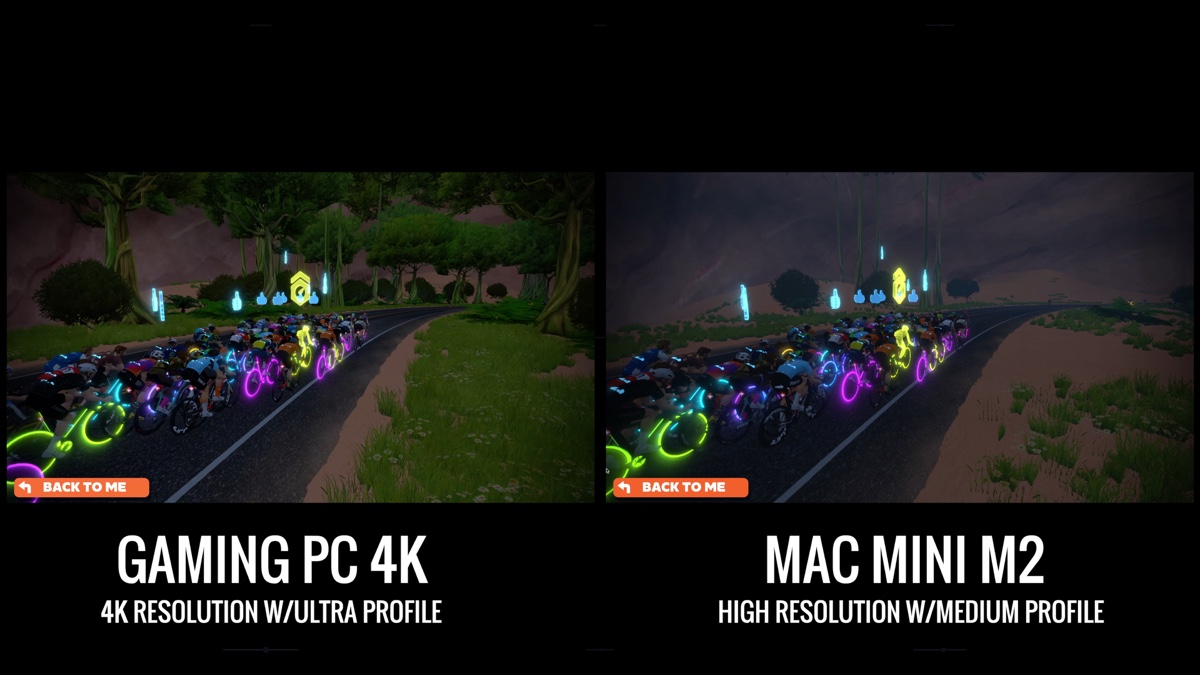 When compared to a PC running Zwift in 4K with an ultra profile, the Mac Mini M2 falls short in terms of pixel density and lacks some details such as headlights and wildlife. However, the game runs smoothly without any noticeable lag or stuttering, with a frame rate locked at a consistent 60 frames per second.
In summary, the Mac Mini M2 is definitely worth considering if you're looking for a cost-effective way to run Zwift on a PC. It's more than enough for most general computing tasks, including running Zwift. While the Mac Mini M2's graphic profile is only set to medium, I believe it's capable of running Zwift in a higher profile, maybe even an ultra profile. Hopefully, Zwift brings back the ultra resolution option for the Mac Mini M2 soon.