PROS
Good road feel
Strong compact frame
Quiet
Manual Mode
Gravity and Fixed Mode
 CONS
Accuracy
Slow to respond in ERG mode
No built-in cadence measurement
Minoura showcased the Kagura DT wheel-on trainer over a year ago at Interbike in Las Vegas. The Kagura DT was Minoura's first attempt to enter the smart bike trainer market and it looked very promising. I received a demo unit the Fall of 2017 and started working with the company to help test different firmware to bring the power numbers to within an acceptable range.
A year went by and now we have a firmware Minoura is comfortable with. So I installed it and off I went. However, a year is a long time in the tech industry. Unlike the direct drive market, the wheel-on market seems to be taking a little pause. Unlike the direct dive market, we haven't seen many advancements in this segment this year and Minoura realized that and introduced the Kagura DD last month.
But for now, let's talk about the Kagura wheel-on trainer and see what this trainer has to offer.
KAGURA DT SPECS
Compatible with 650B/700C/26″/27.5″ wheels with rear hubs from 125-140mm (adapters available for other hub sizes)
ANT+ FE-C and Smart Bluetooth (no Bluetooth FTMS support yet)
Dual-mode support: Gravity and Fixed
Claimed Accuracy +/-5%
Manual Mode
Maximum Watts: 2,000 watts
Maximum Gradient: Up to 20%
FIXED AND GRAVITY MODES
The Kagura DT offers two different modes: Fixed mode and Gravity mode. The Fixed Mode is what you are familiar with. You place your bike on the trainer, tighten the knob and apply pressure against your rear wheel and ride. Your bike will stay in place and doesn't move. That's how
With Gravity mode, the rear wheel sits freely on the roller. Your own weight – plus bike – apply pressure against the roller. To properly set the trainer to Gravity Mode, you need to do the following:
Secure the two side pins
Apply roller until it touches the rear wheel.
Release the two side pins
Your bike should freely move forward and backward. When you ride your bike, your own weight will apply pressure against the roller. Gravity mode is not meant to be used when doing hard intervals or climbing. It's meant for days when you want to do an easy ride or ride without getting out of the saddle. If you get out of the saddle or try to sprint, you will experience tire slippage and nobody wants that.
MANUAL MODE
Another neat feature of the Kagura DT is the ability to use it without electric power and have some control over resistance. There is a red lever behind the roller and a neodymium magnet. The closer the magnet to the roller, the more resistance it will generate.
In manual mode, you can set the resistance to 4 different levels:
Level 0: Magnet sits in the farthest position from the flywheel. This is used when connected to power.
Level 1: Approx. 100W (@ 40 km/h)
Level 2: Approx. 200W (@ 40 km/h)
Level 3: Approx. 300W (@ 40 km/h)
The Manual Mode is a great option if you take the trainer out for group workouts or race warmups and have no connection to power. One thing to note here is when in manual mode, the trainer won't broadcast speed, power or automatically adjust resistance – meaning, no ERG mode or Sim mode.
SMART CONNECTIONS & APP COMPATIBILITY
The Kagura DT is Bluetooth and ANT+ FE-C compatible. It's not FTMS compatible yet but that should be coming via a future firmware update according to Minoura.
As for app compatibility, it's compatible with Zwift using Bluetooth or ANT+ FE-C. Otherwise, to use it with other apps such as TrainerRoad or The Sufferfest, you need to connect it using ANT+ FE-C. Otherwise, it will only connect as a powermeter, not a controllable trainer.
You can also connect and control the trainer with any Garmin EDGE that supports ANT+ FE-C and be able to adjust the resistance. However, even though the ELEMNT and ELEMNT Bolt are compatible with ANT+ FE-C trainers, I wasn't able to control the trainer. Seems to be more of an issue with Wahoo ELEMNT than the trainer itself. However, I was able to use my Garmin EDGE 520 to adjust resistance and control it. (As of writing this post, Wahoo admitted to an issue with the latest firmware preventing the ELEMNT/Bolt to control rainers via ANT+ FE-C)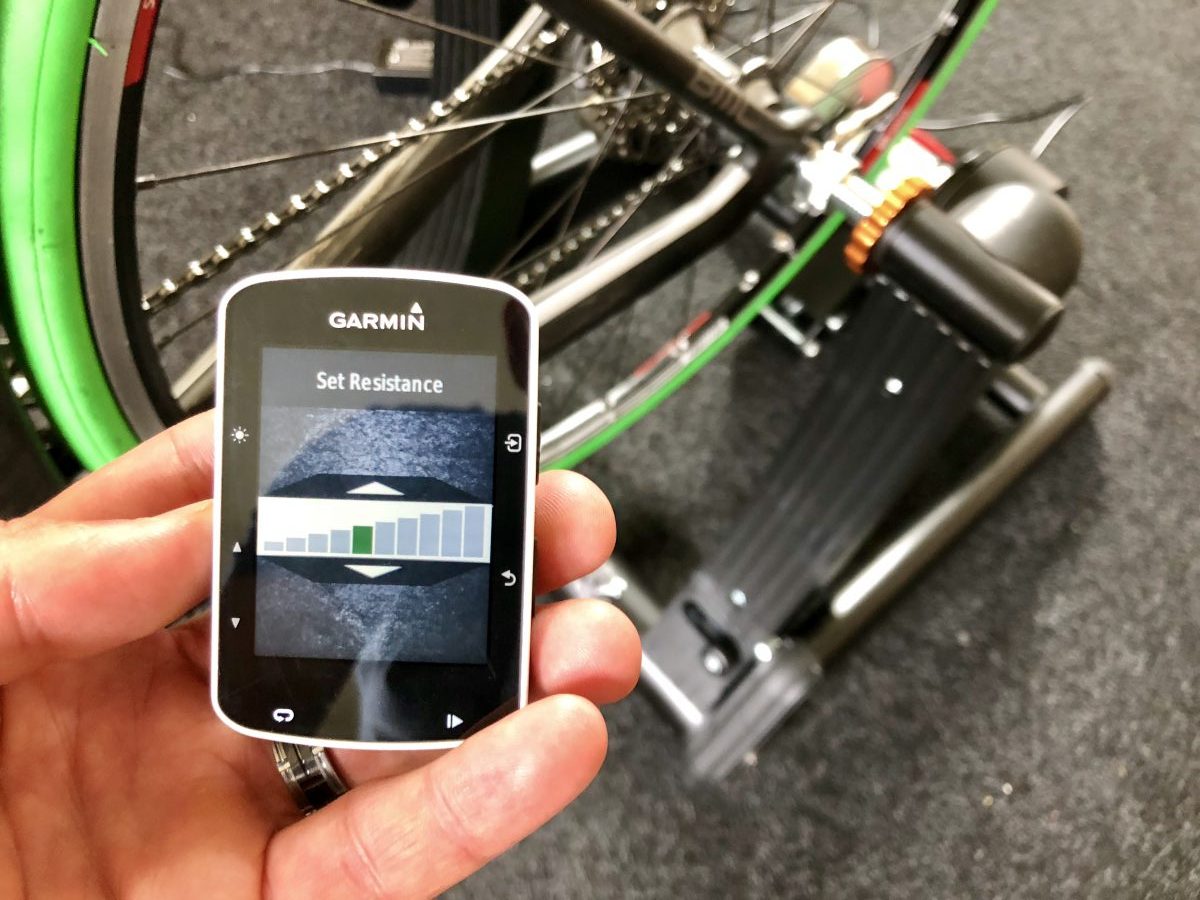 You can also calibrate the trainer directly in Zwift, TrainerRoad via ANT+ FE-C, or a Garmin Edge device. Currently, there is no calibration or firmware available within Minoura's own app. The app is in development and it will probably be released sometime next year.
This is probably a good place to talk about the firmware update procedure. Since they don't have their own app, you will need to download the firmware file directly from their website and use the nRF Toolbox app for iOS or Android to upload the file. The process is fairly simple and worked every time without a problem. You can find step-by-step firmware update instructions on their website.
ROAD FEEL
The Kagura has an impressive road feel. One of the best for a wheel-on trainer other than the KICKR SNAP. However, just like any other wheel-on trainer, you will experience tire slippage and the Kagura was no different. Even though the Kagura is rated to support up to 20% gradient, you will most likely experience tire slippage for anything above 8%. This is just the case with wheel-on trainers in general.
NOISE
Wheel-on trainers aren't known to be quiet trainers. No matter how quiet the flywheel is, you still have the noise and vibration coming from the tire. For a wheel-on trainer, the type of tire and air pressure have an impact on the noise level. Generally, using a specific trainer tire is better than a regular tire. I found it to be very quiet if you take the wheel out of the equation. The flywheel and trainer itself doesn't make much noise.
I did make a video to demonstrate the noise from the Kagura which you can watch here:
POWER ACCURACY
The Kagura claims +/-5% accuracy. I've had mixed results with it and let's start with a ride I did on Zwift. Here is a ride in sim mode. You can see a lot of separation and some spikes by the Kagura. Actually, everytime the slope in Zwift changed, the power spiked and then came back.
Let's zoom into a section here. I removed the P1 pedals just to make the graph a little easier to read. If you just look at the red line, you see how at each climb section, the Kagura spiked by a bit. We are talking about 40 watts or higher than the Power2Max. But if you look at the highlighted section, you can see how after each spike, the Kagura came back to within power and stayed with my Power2Max.

However, when I tried to hold power at one climb for a period of time, the Kagura was underestimating my power and nobody wants that, right? The more I pushed, Kagura didn't respond and kept me around the 280 watts mark where my Power2Max and P1 pedals were reporting around 340-350 watts.
| | | |
| --- | --- | --- |
| | AVG Power | Normalized |
| Kagura | 179 | 198 |
| Power2Max | 170 | 192 |
| % Diff | 5% | 3% |
Surprisingly, the average power for this ride was within 5% and if we look at the normalized power, it was within 3%. Minoura does admit to these spikes on their website. According to the company:
"Please also note that it isn't uncommon for reading to spike in one direction or the other when using programs made for Smart Trainers like Zwift, Kinomap, TrainerRoad, The Sufferfest, and others. This is normal and will be averaged out at the end of the ride through algorithms in both the programs software and the firmware found inside the Kagura unit. Your readings should be accurate to within the stated percentages upon completion of your ride."
So here you go. I am not sure if these spikes will be addressed in future firmware updates.
ERG MODE
Using the trainer in ERG mode was a different story for me. As you see below, at the start of the ride, all three powermeters were within range. Until I entered the tempo intervals, Minoura was reporting up to 17% higher than both powermeters I had on the bike. One thing to note here is a calibration was done right before each ride. A calibration is recommended before every ride with a wheel-on trainer.
However, during the 3-minutes rest intervals, the power reported by the trainer came back down to within 1%-7%.
Here is the data from the 3×10 minutes workout. As you see below, the Kagura was reporting up to 37 watts or 17% higher.
The trainer in ERG mode was a little slow responding to resistance changes. You will feel resistance increase gradually – I am talking about 20-30 seconds until you reach your target. Not as fast as other wheel-on trainers. This is not necessarily a bad thing. For longer intervals, it's nice to slowly increase power but it can be an issue if you are doing short high intervals such as VO2 Max or sprints.
FINAL THOUGHTS
The new Kagura smart trainer is a powerful trainer with great road feel and it's fully interactive. It offers some unique features such as the gravity and manual modes allowing you to use it without electric power making it great for traveling, taking it out to races, and warmups.
However, I would like to see more consistency in power reading. If I know the trainer is always going to read 10% higher, then I can adjust my workouts accordingly. However, that hasn't been the case. Hopefully, Minoura can address this in a future firmware update.
The Kagura retails for $650 but I've seen it sells for as low as $475. I will add my Amazon.com tracker below for current and historical pricing for your reference.
Thanks for reading and please let me know in the comment section below if you have any question!
Minoura Kagura LiveRide LST9200 SmartTurbo Indoor Magnetic Bicycle Trainer, Cycle Force Group
Price History
Statistics
| | | |
| --- | --- | --- |
| Current Price | $499.00 | October 27, 2019 |
| Highest Price | $499.00 | October 10, 2019 |
| Lowest Price | $268.47 | October 9, 2019 |
Since October 1, 2019
Last price changes
| | |
| --- | --- |
| $499.00 | October 10, 2019 |
| $268.47 | October 9, 2019 |
| $275.11 | October 8, 2019 |
| $282.10 | October 7, 2019 |
| $296.95 | October 1, 2019 |
Frame & Design

Ease Of Setup

Smart Connections & Compatibility

Accuracy

Responsiveness

Noise Level

Road Feel