Companies have been trying to bring the sensation of riding outdoors to the indoors. With the introduction of the direct-drive trainers, road feel simulation like in the NEO and climbing like the Wahoo Climb.
Bitelli, a Korean company, is taking this a step further and developing an arcade-like home trainer that looks like a roller/bike treadmill.  I've written briefly about his trainer in the past and now I had a chance to briefly try it out at Interbike.
When I first saw some videos of this trainer, I was a little skeptical. However, the initial ride feel was impressive.
Each trainer has a wide screen TV attached and comes with a library of real cycling videos.  The HD video quality on the wide screen TV that comes with each trainer was very good and the trainer responded to changes in gradient very well. Actually better than expected. I would say, this is probably as close to outdoor riding as you will get on an indoor trainer. The trainer will respond to any changes in gradient by tilting up or down. The movements were very smooth and I actually didn't notice without feeling the resistance increase or looking at the gradient on the screen.
Both models transmit power, and speed. You can connect your powermeter, speed and cadence sensor, HR, and other devices via ANT+.  Both models support +/- 16% slope and up to 1600 watts.
Here is a little demo video of the trainer at Interbike:
Each model had two blowers in front of you and the Lux version had four fans in front. In some other models, I've seen the Lux comes with four fans, two front fans and two in the back. Fans have 3-speeds and adjust speed as you go faster. I didn't know how the fans will feel but they actually felt really good and strong. Enough air was blowing to keep me from sweating profusely. The trainer simulates downhills as well and you can just top pedaling and coast and enjoy the little break.
The company had two different models on the floor: the classic version with a front fork, and the Lux version which is their high-end model.
The classic version has the classic rollers for the back wheel with resistance unit attached.
The Lux trainer has the classic rollers for the back wheel with resistance unit attached. However, the front wheel sits on a treadmill like belt instead of drums for a more natural riding feel and easier to balance on.
Both trainers simulate gradients by tilting the frame or fork up and down. Both trainers can simulate hills up to +/-20% while producing up to 1,600 watts of resistance. Getting out of the saddle for a climb felt similar to other rollers where you are hesitant and worried you will just roll off the trainer. But just like other rollers, as you ride it more you will get used to it and feel more comfortable.
The trainer also has two lights warning system. If you steer away from the center red line, you will see a flashing red light on the right or left of the screen and you will hear a beep as a friendly reminder that you are off the center line. You can see the lights hear that beep in the video I posted above.
COMPATIBILITY
Bitelli developed their own interactive cycling software to work with the trainer. The software, only available for Windows, will simulate courses and you will see a video of where you are riding. Only limited courses are available in their library at this point. You can also import a GPX file to create your own course. You will see a map of where you are riding and elevation profile.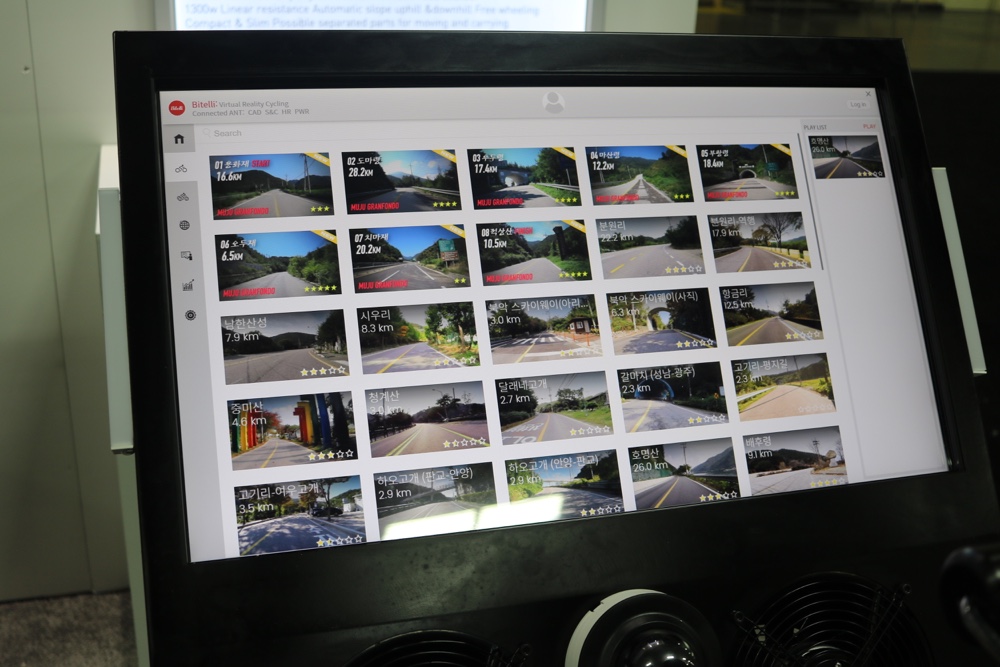 You can use the Bitelli's software as a single rider for a free ride, or create a structured workout. The software also supports multi riders, but they all have to be connected on the same network.
The software provides information of various riding courses including the course video and also lets the users compete with the other riders in its competition mode. In addition, the users can create their own contents by recording the video of the courses and GPS information by themselves.
The trainer is currently not ANT+ FE-C compatible only ANT+, however, they are working on an update that will make it Smart Bluetooth compatible and ANT+FE-C compatible as well so you will be able to control it via third-party apps.
As far as compatibility with other software such as Zwift or TrainerRoad for example, they are currently working to make it compatible with Zwift according to Bitelli which seems to be their first priority. However, you should be able to ride it as a dump trainer and it won't change gradient and you won't be able to use the attached TV to watch Zwift at least for now. As for other indoor training applications, once the Bitelli is ANT+ FEC and Smart Bluetooth compatible, then I assume you would see more compatibility with other applications as the trainer become more popular.
AVAILABILITY & PRICE
This is where you will be disappointed. The trainer is made in Korea and currently available to purchase there. They are working on expanding to other countries in Europe and eventually the U.S. market. I am not sure when this will happen and they didn't have an answer for me.
As far as pricing, I only have information on the Korean version which sells for about $2,600 USD for the classic model and up to $9,000 USD for the Lux depending on options.
Just like the Tacx Magnum, I think these type of trainers are going to run as expensive as some high-end treadmills. The Magnum can be doubled as a running treadmill so justifying that high price can be a little easier–maybe!
The Bitelli is in its early stages at this point and it will be interesting to see where they go from here. Both models look huge and heavy and they are definitely not something you can carry around and require a lot of space in your workout room just like a big treadmill.
Compatibility with other software such as Zwift and trainer road is critical for any company's success in my opinion at this point and without it, they are basically limiting themselves to a small niche in an already niche market.