Last year, Wahoo released an update to Wahoo ELEMNT and Wahoo ELEMNT BOLT that allows you to sync and perform planned and structured workouts directly from your ELEMNT. This is a great option for coached athletes who get their workouts on TrainingPeaks or if you simply want to avoid paying a monthly subscription to Zwift, TrainerRoad or any other cycling app that support custom workouts.
The Planned Workout allows you or your coach to create custom workouts using a third-party app:
TrainingPeaks and Today's Plan are supported.
You need to have your ELEMNT updated with the latest firmware and paired to the Wahoo ELEMNT app.
The next 5 days and previous 2 days will automatically sync to your ELEMNT. No need to plugin your ELEMNT to your computer to download or sync anything. It's that simple!
In this post, I will walk you through how to sync and perform a workout using your Wahoo ELEMNT OR ELEMNT BOLT.
SYNC YOUR ELEMNT
First, you need to make sure everything is connected. The ELEMNT is optimized to read incoming plans from 3rd party apps like TrainingPeaks or Today's Plan and display them on your ELEMNT bike computer. To do that, you first need to sync your ELEMNT to TrainingPeaks
Download the Wahoo ELEMNT app. You can download it directly from the iTunes store or Google Play. Create your account, login, and connect to your Wahoo KICKR or SNAP or any ANT+ FE-C compatible bike trainer.
Connect to TrainingPeaks or Today's Plan:

Under "Ride" Select "Planned Workout"
Select "Sync From Web"
Select TrainingPeaks or Today's Plan. You will be prompted to login and authorize the connection.

CREATE YOUR PLANNED WORKOUT
I use TrainingPeaks and I am going to use it as an example for the purpose of this post. This is where you or your coach need to use TrainingPeaks' Workout Builder to build your workout and define your intervals.The ELEMNT supports intervals based on power, heart rate, or cadence. It will pass whatever information it receives from the third party application. In this case, TrainingPeaks only support intervals based on % of functional threshold power (FTP) and heart rate but no cadence. Today's Plan support intervals based on % of functional threshold power, cadence and heart rate.
Make sure your functional threshold power (FTP) and heart rate zones are correct in your Wahoo ELEMNT app.
Open the Wahoo ELEMNT App and go to Profile
Under Power, click on Edit to enter your FTP value. Do the same for Heart Rate and calculate your zones.
START YOUR WORKOUT
Next time you turn on your Wahoo ELEMNT, you will see a popup of your planned workout and you have the option to select it. You can also view all your planned workout and select a different one. Your ELEMNT comes preloaded with some workouts by default to try out. These include:
20 Minute FTP Test
8 Minute FTP Test
Team Sky Sprinting Session
Team Sky Climbing Session
Team Sky Mixed Session
When you start the workout, the ELEMNT will guide you through each interval. Here are the things you can do during your workout:
Using Wahoo KICKR, KICKR SNAP or any other compatible trainer, you will be in ERG mode and the ELEMNT will control your bike trainer's resistance to keep you at your target watts. If you don't want the ELEMNT to control your bike trainer, you can just go to the KICKR page and select "Passive" mode.
Pause, skip, rewind, or stop an interval mid-workout without impacting your interval or overall time.
You can adjust the workout intensity. From the Workout detailed page, press the right button under the "100%" and it will give you the option to scale up or scale down the workout.


You can zoom-in and zoom-out the workout screen to display less or more fields. By default, the ELEMNT has Target Watts, 3 sec avg watts, heart rate, RPM, interval duration remaining, interval count, avg speed, workout duration remaining. You can modify these fields using the Wahoo ELEMNT app.
During the workout, the LED lights will act as your visual aid to show if you are above or below target watts. You will also see notifications 5-seconds before a new interval and when a new interval is about to start.
INDOOR OR OUTDOOR
You can take the Planned Workout feature outdoor with you as well. This is not limited to your indoor rides only. The ELEMNT also allows you to pause, skip or rewind through intervals. These can be useful when riding outdoor and you hit an area with traffic or need to delay an interval.
SEE YOUR RIDE DATA
You can see a full summary of your workout in Wahoo ELEMNT app as you are working out. Just open the Wahoo ELEMNT app and you will find your power data, heart rate, cadence, and full workout progress.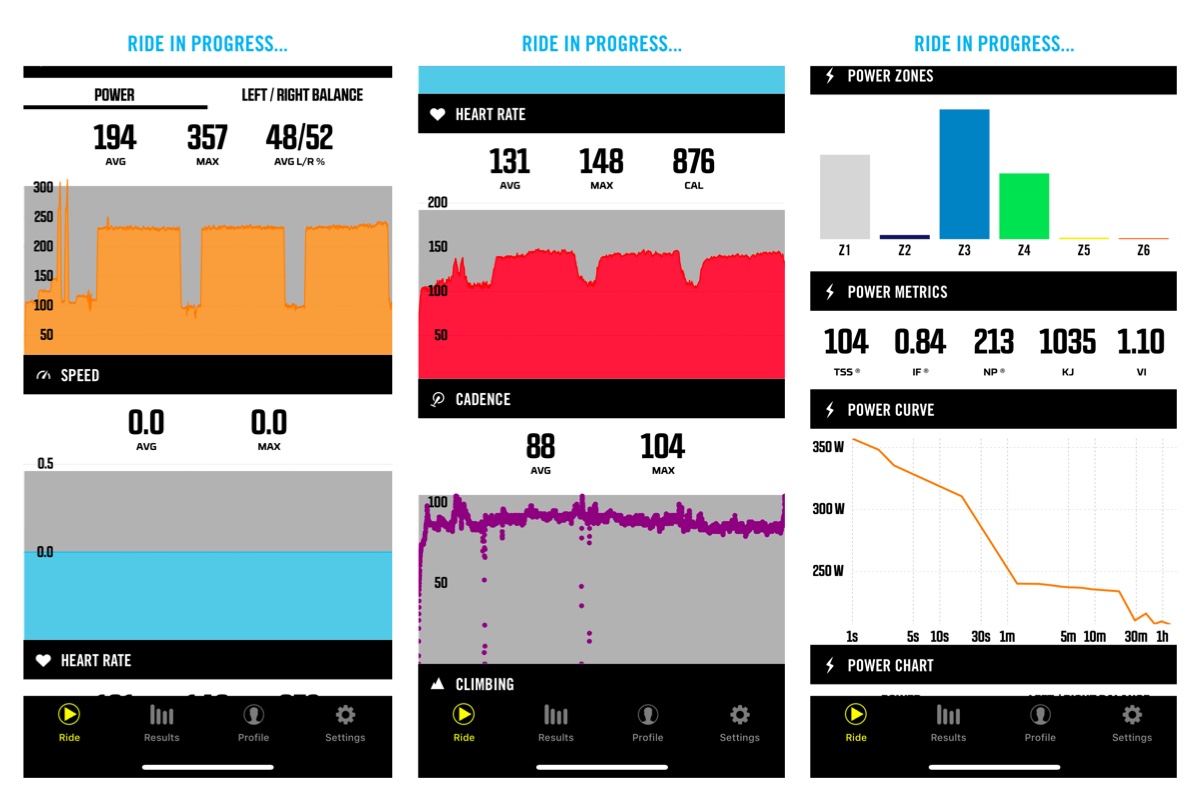 Overall the planned workout worked really well in my first try. For coaches, this is very useful to share workouts with their athletes and let their ELEMNT guide them through the workout. Also, this is just another way to take full advantage of your smart bike trainer without having to use a subscription-based cycling app. Of course, you need to have the ELEMNT bike computer which cost $250 for the ELEMNT Bolt and $330 for the ELEMNT.