TrainerRoad allows the ability to import custom workouts into your TrainerRoad custom workout library. This is handy if you have a coach that prescribe your workouts, a friend who wants to share a workout with you, or you want to ride a course to prep for your race day.
To import a workout into TrainerRoad, you need to have the following:
TrainerRoad Workout Builder
MRC or ERG file
TrainingPeaks and Today's Plan supports MRC file export. Click on the Export button and TrainingPeaks will brings up all the different export files available. You can select either MRC file or ERG file. Both files work with TrainerRoad.
IMPORT INTO TRAINER ROAD
Once you have the workout file exported in the proper format, open TrainerRoad Workout builder on your Mac or Windows PC:
Open TrainerRoad Workout Creator.
Drag and drop the .MRC or .ERG file to the workout list in the Workout creator. You should see a "+" icon like you see in the image below. If you just try to drop the file anywhere in the workout creator, it won't work. So make sure you drag it all the way to the workout list on the left menu.
It will prompt you to give it a name. Change the name if you wish and click on ok.
Click on Publish on the lower right-hand corner.
Open TrainerRoad and you should see your workout under Workouts > Custom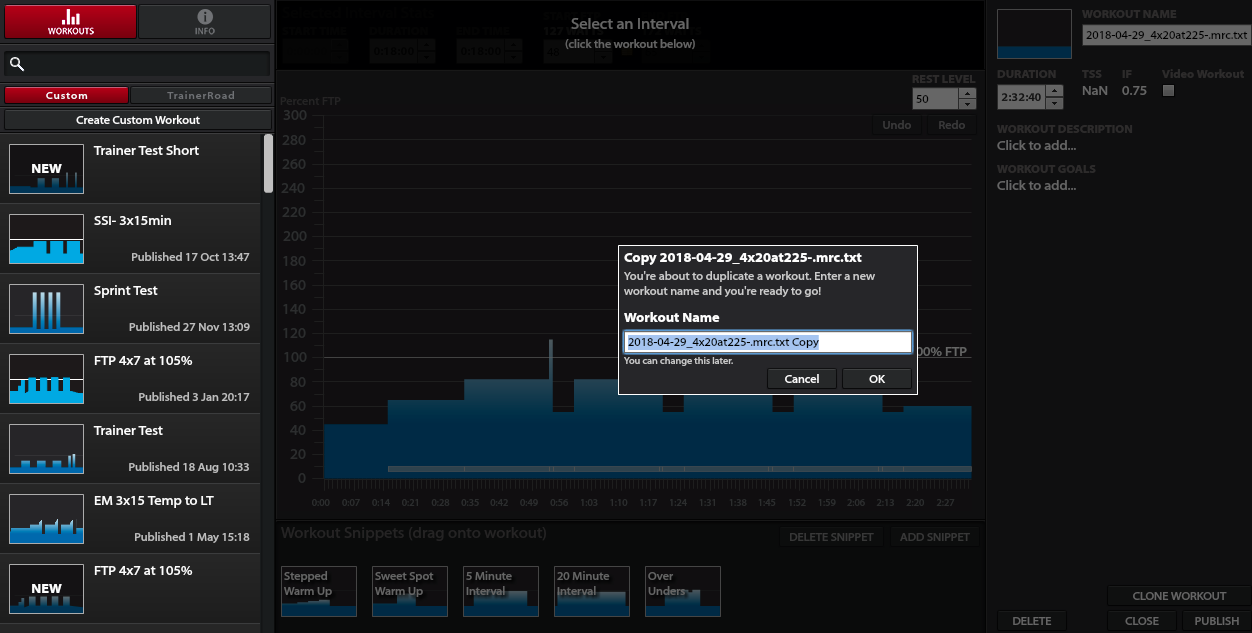 The .ERG and .MRC files are very similar. However, if you open the actual files and take a look at what's inside, you will see WATTS in the ERG file rather than PERCENT.  TrainerRoad will use the data in the header of these files to create your workout and will convert the WATTS specified in the ERG file to a % of your FTP. You can also specify your FTP in the header of the ERG file as well. But there is really no reason to make any changes to the files.