Zwift today opened doors to their new Zwift Drop Shop, a new virtual store that allows Zwifters to purchase new bikes and wheels from the likes of Specialized, Trek, Cervelo, Zipp and ENVE for their in-game avatars.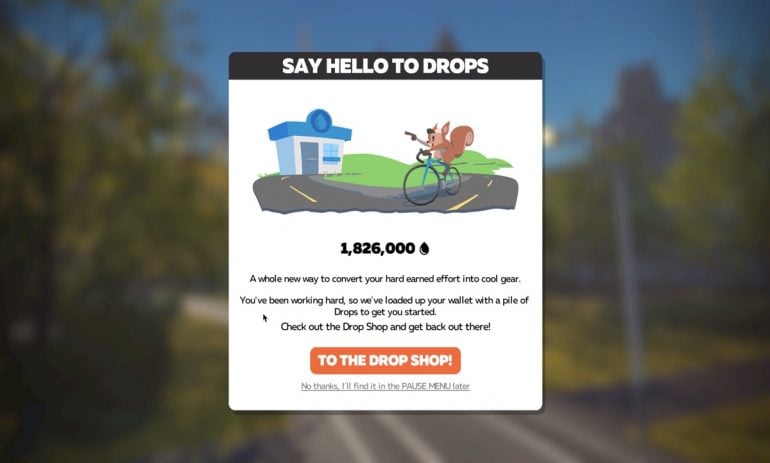 All Zwifters will receive a one-time payout of Drops (Zwift's new in-game currency) based on their current level of experience in the game. Drops have no real-world value, and may only be acquired through riding on Zwift – you can't buy or trade Drops, they must be earned. Drops are awarded based on a combination of miles, feet climbed, and calories burned while riding on Zwift.
Zwifters will continue to 'level up' based on their total mileage in game. The rewards, however, receive a makeover. From today, level unlocks will only include accessories to customize the appearance of your avatar – jerseys, helmets, glasses, and shoes can all be unlocked by leveling up in game.
Bikes and wheels must now be purchased in the Drop Shop, allowing Zwifters greater freedom over what equipment they choose to ride. Special unlocks, such as the coveted Concept Z1 bike, however, will continue as challenge unlocks.
HOW TO ACCESS THE GARAGE
To access the new Drop Shop garage, start a Zwift session and go through the pairing menu and start a ride. Unfortunately, there isn't a way to get to the Menu without starting a new ride.
The Paired Devices screen is the first screen you should see when you start Zwift on your device. Pair your devices and click on "Let's Go"
Then, you will be taken to the World Choice menu. Make your selection or just click on "Ride" to start a ride. It doesn't matter which ride you pick or world.
Once you start a ride, tap or click anywhere on the screen to bring up the Menu button.
Now, you should be in the Zwift menu. From here, you should see a new icon called "Garage. This replaces the old "Customize" icon and this is where all your in-game unlocked goodies will be stored.
Inside the My Garage, you will find all the unlocked equipment that you acquired throughout your Zwift career. Under the Drop Shop, you should see two new icons: Wheels and Frames.
You will see a big selection of gear from major brands that you can purchase with your virtual currency "Drops".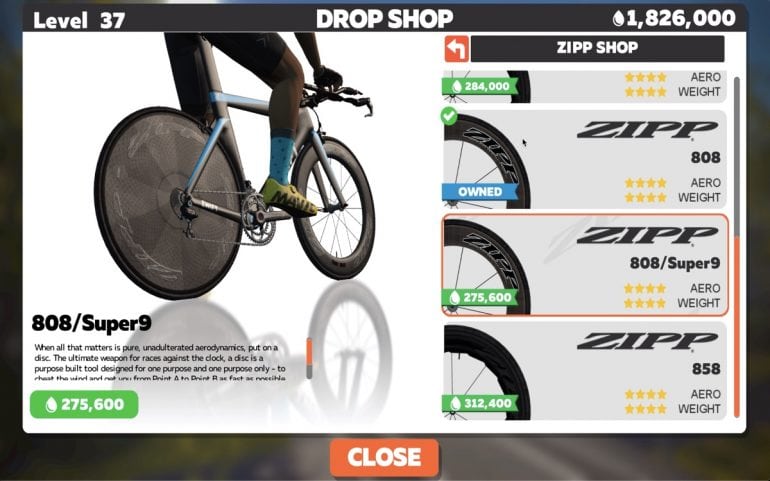 Once you select an item that you want to purchase, you will be asked to confirm your purchase and the cost will be deducted from your Drop wallet.
Your Drops balance will be visible in the riding screen where the "Levels" used to be.

RUNNING
Currently, the new Garage is only open for the cycling side of things in Zwift. Runners will still see "Levels" and unlock running gear the same old way.