Wahoo KICKR and SNAP require calibration for accurate performance. The KICKR, might require normal calibration once every 7 to 10 business days. However, the KICKR SNAP requires calibration before every ride for accurate power measurement.
Normal calibration is usually done using the Wahoo Fitness app which you can download from the iTunes store or Google Play for Android. Calibration takes only a few seconds but for best results, it's recommended to warm up your trainer for about 10-minutes before performing the actual calibration.
To Perform a Normal Spindown on KICKR or KICKR SNAP follow these steps:
Plug in your KICKR Power Trainer if you haven't already.
Ride for 10-minutes
Make sure your trainer isn't connected to any other app or device via Bluetooth. The blue light on the trainer should be blinking if it's not paired to any device. Bluetooth can only pair to one device at a time so you will not be able to find it in the Wahoo Fitness app if your trainer is connected to something else.
Ensure Bluetooth is turned on on your phone and open the Wahoo Fitness iOS App.
Under Linked Sensors, make sure your KICKR is paired. If not, tap on the Linked Sensors area and pair your KICKR.
Under the list of Linked Sensors, tap on the KICKR and you should see the perform spindwon option. Tap on that and follow the instructions.
It's recommended that you warm up your trainer for about 10 minutes before performing the spindown calibration.
For the KICKR SNAP, to get the best calibration results, make sure you do the following:
Tighten the roller against the bike's tire to prevent tire slip. To set the correct roller tension against the tire, use your hand to hold the flywheel stationary and attempt to rotate the bicycle wheel with your other hand. Wahoo recommends 2 full turns.
Aim for a spindown between 9-16 seconds. If your spindown number is less than 9 seconds, you will need to loosen the tension. If more than 16 seconds, you will need to increase the tension. Add another 1/4 turn and do another spindown.
ADVANCED SPINDOWN CALIBRATION
Wahoo Fitness removed the option for Advanced Spindown calibration from the app. The option isn't even listed in their KICKR support page. However, there is still a mention of it in the KICKR SNAP support page

Generally, you don't need to perform advanced spindown often and the regular calibration should suffice. Also, according to Wahoo, doing advanced spindown often can cause some damage to the internals of your KICKR. So only do one if instructed or if the regular spindown doesn't resolve your issue.
To Perform Advanced Factory Spindown Calibration:
Ride your KICKR for about 10-minutes to warm it up.
Open the Wahoo Fitness app and make sure your KICKR is paired.
3. Select KICKR for your Workout Profile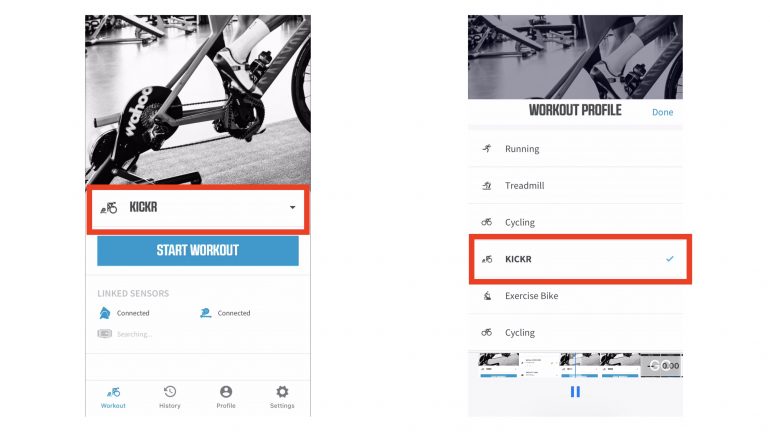 4. Start a Workout and select the little Radio icon on the top left of the screen.
5. Tap the wrench icon next to Wahoo KICKR.
6. On the spin down screen, tap 5 times on the paragraph on top of the Perform Spindown button.
7. You should see "Perform Factory Spindown button. Tap that and follow the instructions.
Once you perform the advanced factory spindown calibration, your brake strength should be set correctly and power should be more stable now.
Hope you find this helpful and thank you for reading!