Ok, that was a very long title so let's take a deep breath and get to the meat of the first day of Eurobike. Wahoo Fitness today announced two new products and one small update to its KICKR line of products:
A new Wahoo KICKR Core
A new KICKR Headwind
An Updated Wahoo KICKR 2018
Now, let's dig deeper into each product separately.
WAHOO KICKR CORE
The Core is Wahoo's attempt to enter the midrange direct drive trainer market and go head to head against the Tacx Flux and Elite Direto.
The Core uses a lot of the same technology and hardware in the Wahoo KICKR Direct drive but with a smaller flywheel, less max power, and less max grade. The KICKR Core flywheel is 12 lbs. For comparison, the KICKR 2017 and previous generations had a 12.5 lbs flywheel. Wahoo SNAP has a 10.5 lbs flywheel. So ultimately you are getting the same flywheel as a 2017 KICKR has which is pretty darn good. Also, Wahoo used the same belt technology in the CORE they used in the KICKR 2018 making it just as quiet. Also, the KICKR Core has the same hub compatibility as the main KICKR.
Price: $899.99 USD
Max Power: 1,800
Max Grade: 16%
Accuracy: +/- 2%
12 lbs Flywheel
With these specs, it makes me wonder why would anyone spend an extra $300 to purchase a KICKR? Max grade of 16% isn't that bad. Most climbs are below that and taking Zwift as an example, only very short potions go above 15%. 1,800 watts is more than anyone would ever need. Until I try one, I don't think the heavier flywheel will make that big of a difference. Other than adjustability, I don't see any reason to spend an extra $300 to get the KICKR. But all this might change once I have them both and put them side by side.
The KICKR Core comes in a more compact design and easy to fold legs and it's KICKR Climb compatible.
The KICKR CORE will be available for sale middle of August for $899.99 (USD.) and doesn't come with a cassette.
Here is a quick comparison of the main features between the KICKR CORE and KICKR 2018:
WAHOO KICKR 2018
For 2018, the KICKR's new design drastically reduces both its volume and pitch levels, making it a virtually silent trainer according to Wahoo. Other updates include a larger flywheel (16 lbs) and same power measurements (up to 2,200 watts) and 20% grade simulation.
So not much has changed with the KICKR other than making it "silent" and a heavier flywheel. The new KICKR still comes with an 11-speed cassette included and a separate cadence sensor. Accuracy is still at +/-2% and you still need to calibrate it. Wahoo decided to not build in cadence measurement like all other smart trainers in its class.
The new KICKR is available for sale now at Wahoofitness.com for $1,199.99 (USD.)
KICKR HEADWIND
The Headwind is a smart fan that responds to the intensity of your workout and adjusts to keep you cool. By connecting to heart rate monitors, smart trainers, or speed sensors, the new KICKR HEADWIND automatically adjusts the fan speed and deliver up to 30 mph wind based on your effort.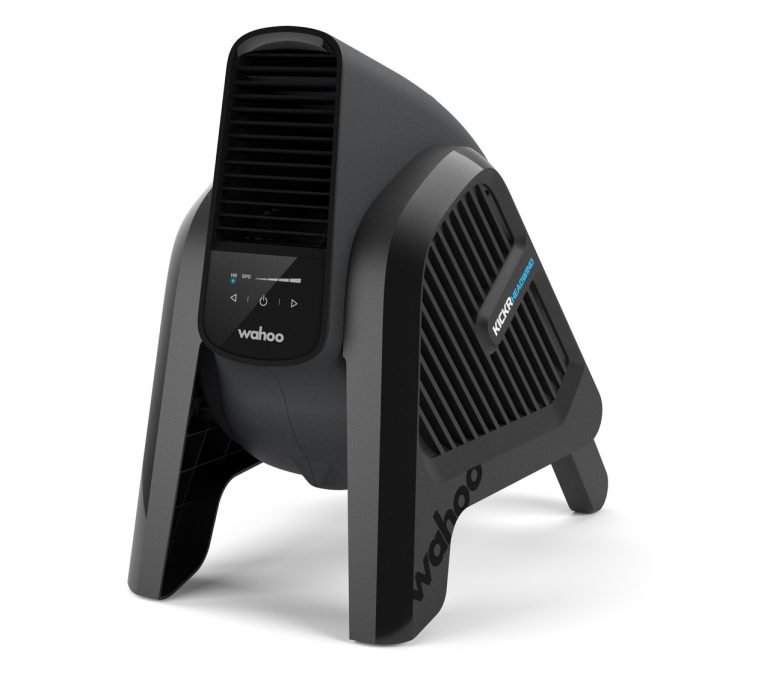 The KICKR HEADWIND is compatible with all KICKR Smart Trainers, integrates into Wahoo's training ecosystem and also pairs with third-party smart trainers and sensors.
The targeted airflow pattern is designed to mirror the shape and position of a cyclist's body while riding on a bicycle. You can manually select one of four speeds on the KICKR HEADWIND using the Wahoo Fitness app.
The KICKR HEADWIND will be priced at $249.99 (USD) and you can pre-order it today for mid-August shipping.