Apple announced new cycling features back in their September iPhone press event when they announced their latest Apple Watch Series 7. These cycling features might not be revolutionary and a lot of fitness watches and bike computers already offer many of them and more. However, the fall detection feature, in particular, could be a game-changer and has been the main reason I've been wearing my Apple Watch on my bike rides. But first, let's go through everything new.
watchOS 8 COMPATIBILITY
The following are compatible with watchOS 8
Apple Watch Series 3
Apple Watch Series 4
Apple Watch Series 5
Apple Watch Series 6
Apple Watch Series 7
Apple Watch SE will be able to update to WAtchOS 8.
AUTO RIDE DETECTION
The Apple Watch detects when you start a cycling activity. Generally, within 3 to 4 minutes of starting your ride, you will feel a little tap on your wrist asking you if you want to track your outdoor ride. The watch does this already for running, treadmill running, and walking. And this is all done using algorithms that analyze GPS, heart rate, accelerometer, and gyroscope data to detect when you begin a ride.
Similar to running and walking, the watch will start tracking the activity from the time you started your ride not when you pressed record. However, there is no detection for indoor cycling unless it's paired to a Peloton bike. So if you ride indoors using a smart trainer or a gym bike, it won't prompt you to start recording an indoor cycling activity.
AUTO PAUSE
The Apple Watch can now detect your stops and automatically pause your ride. Within seconds of stopping at a traffic light or a stop sign, the watch will pause your ride. As soon as you start moving again, the watch will resume recording your ride.
E-BIKES
Apple updated the algorithms to detect when you ride an e-bike. This is done to better measure calories. In the past, measuring calories relied on a combination of distance traveled, time, and heart rate. Now, the algorithm detects when you might be getting a little bit of help from an e-bike. The algorithm looks to see if there is a difference between your speed and where your heart rate should be. So if you are going 20 mph and your heart rate is at an easy-pedaling pace, it will know that you might be on an e-bike and reconfigures calory calculation.
FINISH WORKOUT
Once you stop moving and the watch detects no movement for a few minutes, it will ask if you finished the workout. It will end the workout from the time you stopped moving, not when you press end workout.
FALL DETECTION
Fall detection isn't new to the Apple Watch. Actually, they had that since Series 4. However, they did not have it for cycling until WatchOS 8 because the motion of cycling is different than just falling from a standing position. Apple updated the fall algorithms to look at the motion and impact during a workout so you are not getting an alert when you don't need it.
If your Apple Watch detects a fall it will trigger an alert and will wait for you to respond to the alert before attempting to call emergency services for you. You can dismiss the alert if you are ok, or trigger an emergency call.
If your watch detects that you have been immobile for about a minute, it will make the call to emergency service automatically and inform them of your location.
After the call ends, The watch will go a step further and inform your emergency contacts of your location letting them know that your watch detected a hard fall, and dialed emergency services.
You can set up your emergency contact in your health app on your iPhone which you can find under Settings > Emergency SOS > Emergency contacts.
Of course, for any of this to work you have to either have the Apple Watch with Cell service, or you have your phone nearby and paired to your phone with cell service in the area.
The Apple Watch is one of the best smartwatches out there. However, it still doesn't capture a lot of other data cyclists look for. For example, there is no easy way to pair third-party devices like a power meter, cadence sensor, or a Varia radar so it's still generations behind other devices.
Bike computers and other fitness watches capture a lot more data and are easier to look at than an Apple Watch. Also, some of them have some sort of a crash detection feature and notify your emergency contacts or have real-time information on your whereabouts and offer live tracking to your contacts.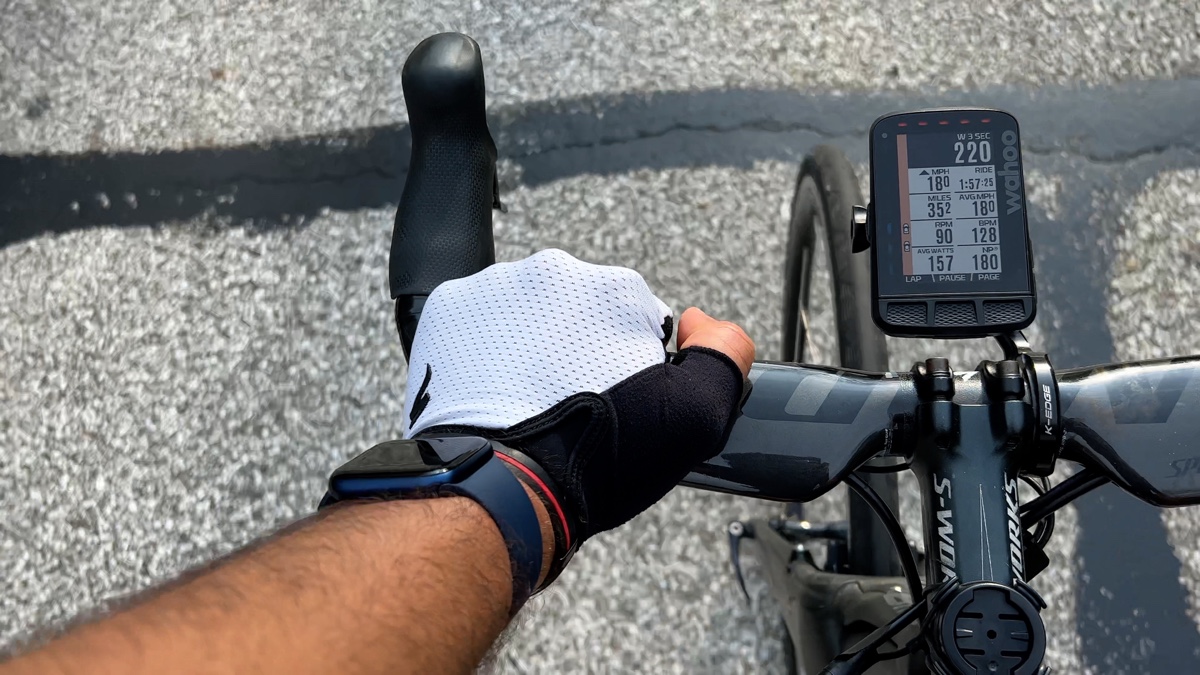 However, the incident detection on most of these devices contacts your emergency contacts rather than emergency service first and you are left relying on your emergency contacts to first see the text message and take the appropriate next step. I can't count the number of times I was out riding and my emergency contact was sleeping.
This raises the question: Would a feature like this make you consider an Apple Watch and use it to track your bike rides? Would this feature make you feel safer riding outside by yourself?
Thank you for reading!
$187.68
$204.95
in stock
11 new from $194.95
6 used from $192.18
as of June 5, 2023 11:29 pm
$192.99
in stock
7 new from $178.00
4 used from $155.00
as of June 5, 2023 11:29 pm
Last updated on June 5, 2023 11:29 pm