PROS
Accurate
Can simulate up to 18% slope
Quiet
CONS
Plastic frame
Requires some assembly
Building on the success of the previous Diretos, Elite continues to make small and tiny tweaks to make this trainer more accurate, quieter, and more powerful.
The Direto X now supports up to 2100 watts, that's up from 1,400 watts the previous models support. The integrated OTS power meter is now also more accurate and can measure accurate power within +/-1.5%. That's half a percent better than previous models. It can simulate up to 18% gradients, enough to crush your legs up the steepest climbs on Zwift. And it's equipped with a 9.25 lbs flywheel.
DIRETO X KEY SPECS
Price: $899.99 USD
Power measurement accuracy: +/- 1.5%
Maximum power output: 2100
Measures power, speed, and cadence
Simulates 18% climbing grade
9.25 lb flywheel
Integrated dual ANT+ FE-C and Bluetooth FTMS standards
Compatible with Shimano 9-11 speed cassettes

Thru-axle compatible for bikes with 142 or 148mm hubs An adapter is available for Boost 148×12 mm rear hubs.
Quick-release compatible with 130mm and 135 mm bubs.
Compatible with long cage derailleur.
SETUP
Similar to other trainers from Elite, The Direto X comes unassembled. You need to attach all three legs and install a cassette. Attaching the legs isn't difficult to do and all the required tools are included. You will find the trainer, power cord, bag with end caps, and manuals. A quick-release skewer is included and a front-wheel riser block as well.
IN THE BOX
Power cord
End caps (130 -135 quick release, 142-148mm adapters).
Front-wheel riser block.
The Direto X doesn't come with a cassette. So you need to purchase a cassette that is compatible with your bike and install it.
You can purchase an 11-speed Shimano 105 cassette for about $45 but if you are still on a 10-speed cassette then you can save a few dollars and get a 10-speed Shimano 105 cassette for about $50. If you need a cassette plier, the Feedback Sports cassette plier and Cassette Wrench are one of my favorite and easy to use. But you can find a cheaper chain whip, a lock ring tool, and any adjustable wrench should work.
Once assembled, pair the Direto X to the new Upgrado app available for iOS and Android devices to check if there is a new firmware available. The firmware can be updated wirelessly using the Upgrado app. Calibration will need to be done from Elite MyEtraining app. I wish Elite included calibration with their new Upgrado app instead of having to switch apps.
Calibration needs to be done to set the brake strength and accurate power measurement. For best results, ride the trainer for about 10-minutes and perform the calibration. Calibration on direct drive trainers should be done once every couple of weeks, if you switch bikes, or if you move the trainer around. Personally, I ran the calibration once and the trainer has been measuring power accurately since. I was able to run the calibration using TrainerRoad and Zwift but I didn't test it for accuracy.
APP COMPATIBILITY
The Direto X follows all the new wireless communication standards. It's dual ANT+ FE-C, Smart Bluetooth, and FTMS compatible. I tested it mainly in Zwift, TrainerRoad, as well as The Sufferfest and it worked well in all three.
The Direto X broadcasts power, speed, and cadence. So, it is simple to use with Apple TV which only allows two simultaneous Bluetooth connections.
NOISE
If you want to hear how loud or quiet the Direto X is, you can watch the video above. But if you prefer to just skip to the noise demo section, just click here.
The trainer is not loud. Maybe a tiny bit louder than the Flux 2 and not as quiet as the KICKR CORE. I didn't feel any noticeable vibration either. So if you live in an apartment or on the second floor, I think you might be ok.
And for decibel comparison sake, here is how it compares to the KICKR Core and Flux 2 based on my own measurements.
RIDE FEEL
The Direto X is equipped with a 9.25 pounds (4.2 kg) flywheel. The ride feel is good. ERG mode and Sim mode felt really good with the Direto X. Not as good as higher-end trainers with a heavy flywheel but this is an area where you get what you pay for. For me, being on different trainers all the time, I didn't mind the feel and thought it was very good. I think you will be happy with it as well.
POWER ACCURACY
Key Findings:
The Direto measures power accurately based on my comparisons with two different power meters – Assioma Duo pedals and Power2Max crank-based power meter.
In ERG mode, it's quick to respond to changes and measures power accurately regardless of gear selection or flywheel speed.
You might run into wattage floor issues due to its mechanical limitations depending on your gear selection.
---
Elite claims the Direto X is accurate within +/-1.5%. The goal is to see if the Direto X comes within that claim.
The first ride was just a regular ride in Zwift in sim mode. I used my Assioma Duo pedals along with my Power2Max powermeter. The data looked really good and overall the Direto X was spot on with my power meter. There is really nothing to point out. Everything just looks beautiful and charts like this make me happy.
I did three sprints to see how it behaves during these sprints and again, it looked really good. Maybe overshot at the beginning of the sprint for a second but now I am just nitpicking.
Switching over to ERG mode, the Direto X worked very well to keep me at my target watts. Here is a longish endurance ride with some tempo. It worked well throughout the 2 hours.
Moving on to another workout, this workout is from TrainerRoad workout library. It's called Carson and consists of 6 (5 to 7min) intervals. I used this workout to see how the trainer responds to different gearing in ERG mode. The purpose of this test is to see how trainers behave when using different gears and see if gearing or flywheel speed has any impact on power accuracy – some trainers don't do well in a bigger gear. Also, to see if a trainer has a wattage floor limitation. This is when the trainer's mechanical limitation affect the trainer's ability to reach target power due to gear selection.
Overall the Direto X was very good. It was within a watt or two from the target and a few watts from my Assioma. It was always measuring a watt or three higher than my Assioma but still within range and consistently higher. The consistent part is what's important to me. As long as the trainer is doing the same thing and that "thing" is within range and not erratic, I am ok with it.
The highlighted section above is when I switched from 53/17 to a much bigger (53/13) gear and the trainer hit its wattage floor and couldn't bring me down to 224 watts as you see in the below chart. After about 30 seconds of this, I realized the trainer isn't going to bring me down so I went back to my 53/17. That's where the little dip happened in power until it stabilized.
So just keep that in mind. If you are a big gear type rider and notice the Direto's resistance is pretty high, then go up to a smaller gear and everything should be better from there. It's also worth noting that the Direto X didn't have issues measuring power when going to a big gear.
ERG MODE AND POWER DISTRIBUTION
Overall, the Direto worked well in ERG mode. I like to look at power distribution to get a good picture of how a trainer responds in ERG mode. For example, if the power target was 235 watts I look to see how much time I spent +/-10 watts of my target. This is usually where more money gets you better results.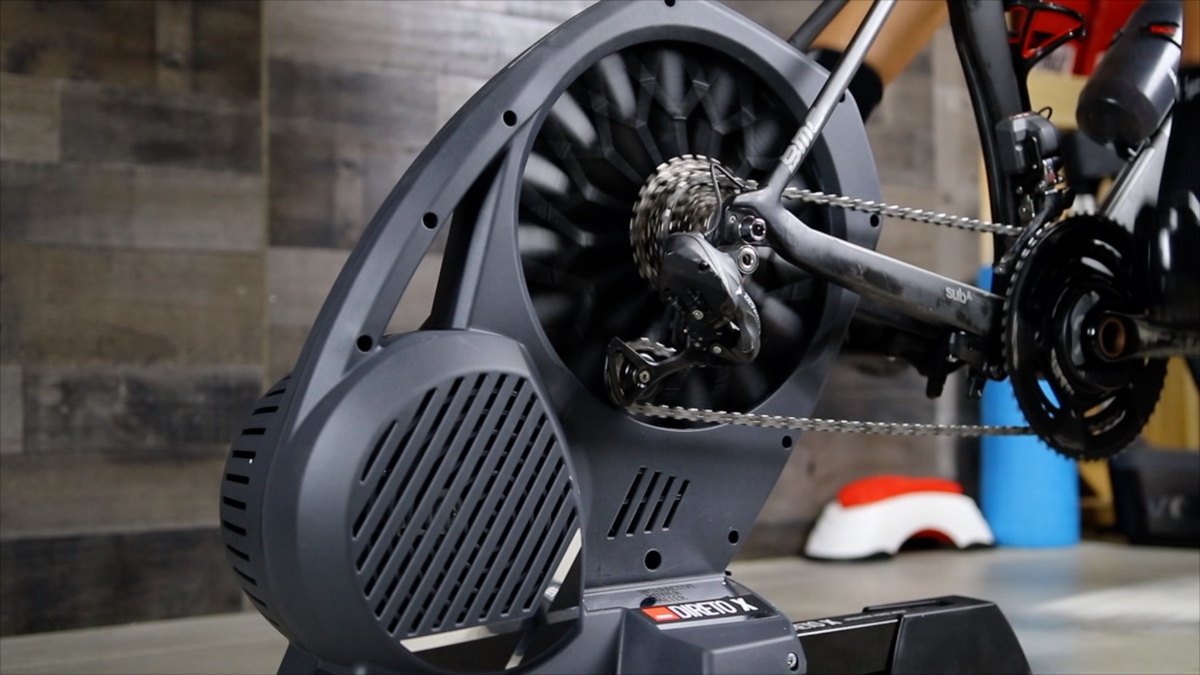 In the table below, using the small ring, this is when trainers usually do their best to keep you within range. Out of the 5min interval, the Direto kept me within +/- 10 watts from my target 76.7% of the time or 3:50. Only 30sec above my target and 40 sec under my target zone. This isn't as good as higher-end trainers. I usually see numbers in the 70% range when using a bigger gear.
When going to a bigger gear, the Direto X kept me within +/-10 watts of my target 50% of the 7min interval. That's 3:01min. Over 23% of the time spent above my range and over 26% or 1:36min under my range. This is a little below what I like to see but not the end of the world to me. If you want something smoother, then spending a few hundred dollars more would make a difference.
Onto the next test. This is where I look to see how quick it responds to ERG mode. I ran the Direto X through short 30 seconds to 10 seconds long intervals.
Going from 100 watts to around 380 watts took about 3-seconds.
Going from around 350 watts down to around 100 watts took also 3-seconds.
Overall, the Direto took about 3 seconds to reach the target for each interval. This isn't bad at all but also personal. Some might think it's slow and yes, it might be 1 or 2 seconds slower than other trainer but I am also not a big fan of hitting a brick wall when entering an interval.
CADENCE
The Direto X broadcasts cadence as well over Bluetooth FTMS and ANT+ FE-C. It tries to estimate it using a combination of power and flywheel speed. Most smart trainers use a similar method to calculate cadence. Some do it better than others.
Here is the cadence data from my sim ride. Overall it was ok. Some occasional drops which is expected when trying to calculate cadence instead of measuring it with an actual sensor.
Overall, I am not that picky when it comes to cadence and I am generally ok as long as the trainer gives me a number to look at. But if you care about accurate cadence measurment or do a lot of cadence drills, then investing in a cadence sensor might be something to consider.
FINAL THOUGHTS
Elite made tiny tweaks and improvements to the Direto year over year making the Direto X the best Direto. The Direto X simply worked out of the box. It's quieter, better road feel, worked well in ERG mode and measured power accurately. That hasn't been the case with all the trainers I received this year. At $899, I think you will be happy with your purchase and I have no problem recommending it to anyone looking for a good direct drive trainer.
WHERE TO BUY
If you are interested in the Direto X, you can find it on Amazon or CleverTraining for $899.99. The price tracker below will keep an eye on the Direto X price on Amazon as well and you can signup to get a price alert if wish.
Thanks for reading!
Support SMARTBikeTrainers and shop with Amazon or CleverTraining (use coupon SBTCTVIP to waive CleverTraining VIP membership)
Frame & Design

Ease Of Setup

Smart Connections & Compatibility

Accuracy

Responsiveness

Noise Level

Road Feel